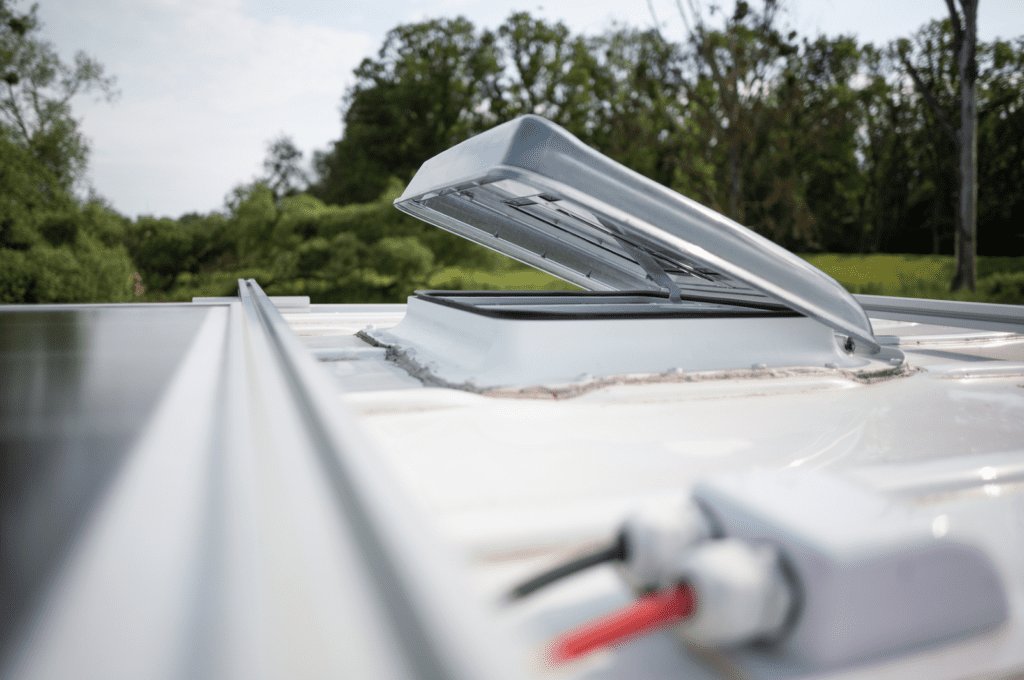 RV Roof Coating Tips and Recommendations
RV roof coating is something every RV owner should know about. After all, what's the point of an RV without a functioning roof over your head to keep you warm and dry?
As a popular Oregon RV park, we see a lot of people camping in the rain, so we've learned the importance of a properly sealed RV roof firsthand. Even a tiny leak in the roof of your RV can completely derail your vacation. We put together this thorough guide so that you can enjoy your RV all throughout the year, rain or shine!
The Importance of RV Roof Coating
Regular RV maintenance is essential if you want to maximize the lifespan of your RV and enjoy it year-round. And taking care of your RV roof is one of the most important aspects of RV maintenance.
RV roof coating helps prevent leaks and provides an added layer of protection from the elements, including rain, snow, wind, sleet, dirt, UV rays, and environmental debris. Over time, UV rays can crack and damage your RV roof material. The fresh coating will help protect your RV interior and prolong the life of your RV so that you can enjoy it for many years to come.
How Often to Use RV Roof Sealant
If you notice any cracks or leaks in your RV roof, be sure to apply some form of sealant or coating as soon as possible to prevent further damage and avoid the need for more costly and complex repairs down the road. Leaks can wreak havoc on your RV structure and interior, damaging wallpaper, ruining walls, and causing mold problems.
If you use your RV regularly, it's often recommended that you apply a fresh coat of sealant or coating at least once a year. Some types of coating require less maintenance and upkeep than others though. In addition to applying a coating, a full RV roof replacement is generally recommended every ten years or so. Regular RV roof maintenance and yearly coating will help minimize the need for a full roof replacement.
RV Rubber Roof Coating & Other Types of Sealant
Not all RV roofs are created equal – some have rubber roofs and others have metal or fiberglass roofs. It's important to know what kind of roof your RV has and take this into consideration when choosing what type of RV roof coating to use. RV roof coatings are generally used to cover the entire roof, while "sealants" are sometimes used to patch up specific cracks, leaks, or damaged areas of the roof. However, the terms coating and sealant are often used interchangeably.
To help you make an informed decision about the best RV roof coating, below are some popular types available and the pros and cons of each:
Acrylic roof coating: Acrylic roof coatings tend to be less expensive than other types of RV roof coating. They are UV resistant and offer solid leak protection. On the flip side, this type of coating often requires more than one coat and is not considered the best option for roofs that are susceptible to pooling or standing water.
Urethane roof coating: Urethane coatings offer the same benefits as acrylic coatings, but are considered more durable and can hold up slightly better to pooling water. They typically require two coats and are more expensive than acrylic coatings.
Silicone roof coating: Silicone coatings are more expensive than acrylic or urethane, but offer even greater protection. Although they cost more per gallon, they only require one coat and no primer. This type of material is also more elastic and less susceptible to drying out or cracking over time.
Rubber sheeting: In addition to liquid coatings, there are also many types of rubber sheeting to choose from. Some of the benefits of rubber roof sheeting include temperature insulation, noise insulation, clean appearance, ease of repair, and low maintenance. Compared to liquid coatings, however, rubber sheeting is less flexible and can be more challenging to work with. Improper installation can lead to leaks.
When in doubt, check your RV owner's manual or ask your dealer for tips on RV roof maintenance and coating. There are many products out there that claim to be the best, so do your due diligence and be sure to read customer reviews!
How to Install the Best RV Roof Coating
You can always leave RV roof repairs up to your RV dealer if you prefer, but you'll definitely save money by handling some of the maintenance and coating yourself. The process of coating or resealing your RV roof usually only takes one day to complete and is fairly straightforward.
Before you do anything else, be sure to give your RV roof a thorough cleaning. Built-up dirt or debris on your RV roof can prevent the coating or sealant from adhering properly. Check out our guide to RV detailing to learn more about how to clean your RV roof without causing any further damage.
Next, find the right type of coating for your RV roof material and then use your RV roof dimensions to ensure you buy enough to complete the project. You should follow along with the application instructions that come with whatever product you choose to buy. Generally, the application process calls for a roller brush to apply the coating. Some products call for primers, while others do not. Some products require two coats, and others just need one.
Try to complete this project on a day with optimal weather conditions. Some coatings need a day or two to sit before they should be subjected to rain or other inclement weather.
Once You've Taken Care of Your Roof, Hit the Road!
Coating your RV roof may seem like a hassle, but when you're nice and cozy in your RV on a stormy night, you'll be happy that you stayed on top of your RV maintenance!
Once you've taken care of your RV maintenance and you're confident that your roof is ready to keep you warm and dry, you can hit the road and enjoy your RV at any time of the year, in any climate. This will help you get the greatest return on your investment, not to mention live your life to the fullest!
If you're looking for a great year-round RV destination, come stay with us at Silver Spur. We are open 365 days a year and offer countless amenities and entertainment to ensure your stay is comfortable and enjoyable, rain or shine.