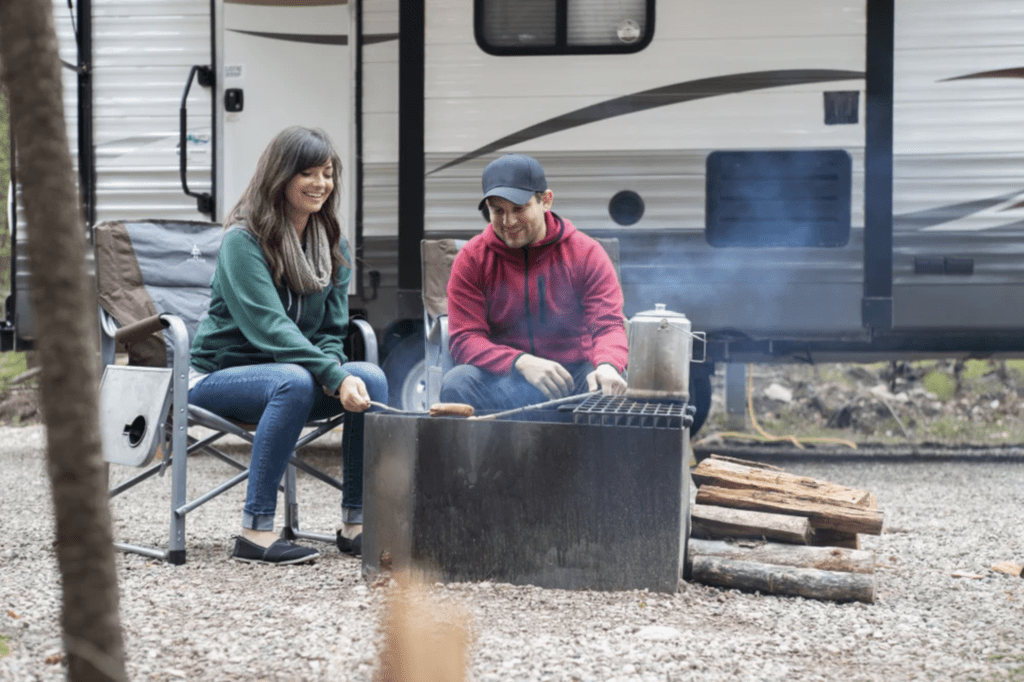 The Versatility of Trip Planning with Year Round RV Parks
It's always hard to say goodbye to the beautiful summer season in Oregon, but luckily there's still plenty to look forward to throughout the year! Oregon is home to stunning, seasonal scenery and plenty of year round RV parks!
Oregon Year Round RV Parks: Enjoy 365 Days of Adventure!
With an RV, your outdoor adventures don't have to end just because the weather starts to cool down; you can stay at one of the many year-round Oregon RV parks, cozy and comfortable in your home away from home, with endless activities just outside your door. Many RV parks in Oregon, including Silver Spur, are open 365 days a year and offer additional amenities and entertainment to ensure your stay is comfortable and enjoyable, rain or shine.
Things to Do in the Fall and Winter
Fall is a magical time to experience Silver Spur RV Park & Resort and the wonders of Silverton, Oregon. The beauty of Silver Falls State Park is only enhanced by the rich colors of fall, and you'll have less crowds blocking the views of the waterfalls while you stroll, hike, run, or bike through the trails. In November, you can partake in the Silver Falls marathon (named top 6 trail races in the Nation by REI!) which has to be one of the most scenic marathons around. There are also many festive events in town to enjoy in the fall – like Mt. Angel Oktoberfest, Fall Festival at the Oregon Gardens, and lots of pumpkin patches – to get you and the family in the holiday spirit. If you're feeling brave, you can also check out the spooky Silver Crest Haunted House. Fall is also known as the best time to visit Oregon wineries because you can experience the excitement of the harvest, which typically runs from September through November. Silver Spur RV Park & Resort is just a short drive from a long list of incredible wineries in the world-renowned Willamette Valley.
Winter may not seem like the best season to stay at an RV Park, but you'd be surprised how cozy and comfortable it can be! At a resort-like Silver Spur, you will have access to amenities like a hot tub, game room, and an inviting lodge with a roaring fireplace where you can curl up with a good book. If you prefer not to stay in your RV in the winter, we also have a fully-equipped cabin available for rental with its own fireplace. The town of Silverton has so many quaint restaurants, breweries, and funky shops to explore if it's cold or raining outside. The Oregon Garden's famous holiday event, Christmas in the Garden, boasts 1 million twinkly lights, a traditional German Christmas Market and Biergarten, a snowless tubing track, and much more – you won't want to miss it if you are here in the wintertime! Plus, the nearby Silver Falls State Park takes on a whole new look and feel during the winter. According to the park manager Kevin Strandberg, "It can be 10 times more water in the waterfalls than in the summer. The falls are roaring this time of year." If you happen to visit when it snows, the icy falls are a truly majestic sight!
Things to Do During Spring and Summer
If you're lucky enough to visit Silver Spur in the springtime, it's time to get outdoors. The weather is so nice and temperate, with some occasional rain, but that doesn't stop us Oregonians! Go for a horseback ride around Silver Falls State Park, enjoy a picnic at one of our gathering spaces on-site (many of which are covered in case of rain), or wander through the 80 acres of botanical gardens at the Oregon Gardens. Just be sure to bring a raincoat with you, just in case. In May, you can even get your hands dirty there and volunteer to help plant some flowers! Starting in May and ending in October, be sure to stop by the Silverton Farmers Market in the town square on Saturdays, where you can sample and purchase locally grown produce and berries, freshly-baked artisan breads and treats, bright bouquets of flowers, one-of-a-kind craft items, delicious hot food, and so much more! It's the perfect place to gather supplies for an idyllic spring picnic.
When summertime finally rolls back around, you'll definitely want to take advantage of the outdoor swimming pool, BBQs, and stocked fishing pond on-site at Silver Spur. There are endless events and activities to enjoy in the town of Silverton and surrounding areas in the summer. In June, come stay with us and join the local Petal Pedal, a gourmet distance bike ride around Silverton. In July, come and enjoy the fireworks at the Oregon Gardens for the 4th of July. The Oregon Gardens hosts lots of other fun events for the whole family, like weekly movie nights, in the summer months. Of course, Silver Falls State Park is the most well-known for its natural scenery, but there are so many more parks, lakes, and creeks in the area to explore and get away from the crowds. At the Silverton Marine Park and Reservoir (also known as Silver Creek Reservoir), you can swim, kayak, go for a boat ride, fish, or just float around and soak up the sunshine!
Stay at Silver Spur RV Park & Resort!
Silver Spur RV Park & Resort is the perfect place to stay to take advantage of the year-round activities, events, and natural beauty in Silverton, Oregon. With so many on-site amenities and a comfortable home base in a central location, you may want to keep coming back so that you can experience all that each unique season has to offer. Keep in mind, if you are looking to come and stay with us during one of the big events listed above, be sure to reserve your stay as soon as possible so you don't miss out! We can't wait to host you!