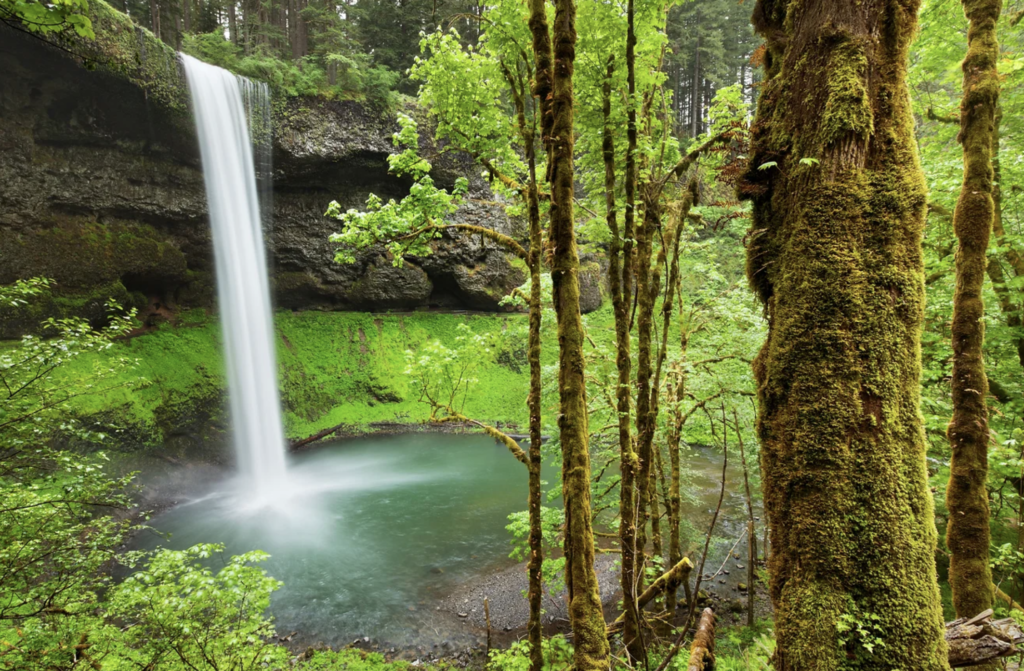 10 Must-See Oregon Waterfalls
In a state with over 200 different waterfalls to see, it can be hard to prioritize which to visit first. That's why we put together this list of some of the most stunning waterfalls in Oregon — ones you definitely won't want to miss!
An Introduction to Oregon Waterfalls
If you love waterfalls, you're sure to fall for Oregon. The state of Oregon is home to more than 200 beautiful and diverse waterfalls of all shapes and sizes. 90 of these are located in the world-renowned Columbia River Gorge. In fact, the Columbia River Gorge is known for having the highest concentration of waterfalls in all of the United States! Another place in Oregon with an incredibly high density of waterfalls is Silver Falls State Park near Silverton.
With so many great options for waterfall viewing in Oregon, it can be hard to decide on your next adventure. Keep reading for 10 spectacular waterfalls that should definitely be on your list.
10 Must-See Oregon Waterfalls
10. Multnomah Falls
Multnomah Falls is one of the most well-known and popular waterfalls in Oregon. At a towering 635 feet, it's also the tallest waterfall in the state. It's a great option for people who want to experience a breathtakingly beautiful waterfall, without having to hike at all — you can actually see the falls right from the highway! So if convenience is your thing, this is the place to go. On the downside, it can be crowded and touristy, especially on weekends in the summer. Multnomah Falls draws a whopping two million visitors every year!
9. Horsetail Falls
Not far from Multnomah Falls, also in the Colombia River Gorge, is another gorge-ous waterfall: Horsetail Falls. The falls flow over a rounded rockface and is said to resemble a horse's tail, hence the name. This is another easy-to-access waterfall that doesn't require a lot of hiking. However, there is a great hiking trail loop that goes up above to another beautiful waterfall that you can walk behind, called Upper Horsetail Falls or Ponytail Falls.
8. Punchbowl Falls
For those looking to do a little more hiking in addition to their waterfall viewing, Punchbowl Falls in the Gorge is a standout option. As you hike up the steep gorge along Eagle Creek Trail, you can see basalt cliffs that were formed about 10-15 million years ago from lava. As the name suggests, there is a deep, bowl-shaped pool at the base of the falls that resembles a punchbowl. The waterfall and blue pool surrounded by lush greenery is a spectacular sight — more than worth the hike!
7. Tumalo Falls
Tumalo Falls is an impressive 97-foot waterfall on Tumalo Creek in the Deschutes National Forest near Bend, Oregon. There are plenty of spots for picnicking and trails for hiking and mountain biking at this park. If you go, don't miss the trail to the viewpoint above the falls! During the wintertime, Tumalo Falls is an amazing spot for cross-country skiing.
6. Toketee Falls
Toketee is a Chinook word meaning "graceful" or "pretty" — so it's the perfect name for such a gorgeous waterfall. This waterfall is well known for its unique columnar basalt formation that perfectly frames the two-stepped falls. There are also some natural hot springs nearby called Toketee Hot Springs (also known as Umpqua Hot Springs), perfect for a healing soak after a long day of outdoor adventures.
5. Latourell Falls
Latourell Falls is the closest of the major falls in the Colombia River Gorge to the city of Portland. It's a 224-foot tall single-plunge waterfall and it's breathtaking! You can easily access the viewpoint to take in the falls from below or hike up for even more spectacular views of Lower and Upper Latourell Falls.
4. Wahkeena Falls
Slightly taller, at 242 feet, Wahkeena Falls is yet another waterfall in the Columbia River Gorge. Compared to others, this waterfall is more cascading and less of a direct plunge. It's less than a quarter-mile hike to the falls, but if you continue up the trail you can see some expansive views of the Columbia River Gorge.
3. Watson Falls
Located in the Umpqua National Forest, Watson Falls is the third-highest waterfall in Oregon. It plunges 272 feet into an amphitheater and then cascades down rocks a couple of hundred more feet. It's an incredibly powerful waterfall — you'll definitely get sprayed if you get close!
2. Oneonta Gorge
Oneonta Gorge and Falls is a magical waterfall hidden at the end of a verdant narrow gorge. It's not a huge waterfall, but it's a breathtakingly beautiful place for a swim. To get to it, you have to scramble over logs and hike through waist-deep water (depending on the season), but the effort is definitely worth it. Actually, it's half the fun! This is a great choice for the adventure-seekers out there.
1. Silver Falls – Trail of Ten Falls
If you only have time to visit one of the waterfalls on this list, we highly recommend Silver Falls. Silver Falls is often referred to as the crown jewel of the Oregon state park system — and for good reason. Here, you can see not one but ten breathtaking waterfalls on one trail aptly called the "Trail of Ten Falls." You can even walk behind four of the waterfalls! Silver Falls State Park is a popular destination for hiking, trail running, mountain biking, and horseback riding. If you're looking for a place to stay nearby, check out our Salem RV Park.
Portland Waterfalls and Other Oregon Attractions
Incredibly, most of the waterfalls on this list, including those in the Colombia River Gorge and Silver Falls State Park, are less than an hour's drive from the city of Portland! Visiting a waterfall for a picnic, hike, or bike ride is a quintessential Portland activity.
Other waterfalls on this list, such as Toketee Falls and Watson Falls, are less than an hour away from Crater Lake, one of the main attractions in the state of Oregon.
Best Time to Visit Waterfalls in Oregon
There's really no "best time" to visit waterfalls in Oregon. Each of the waterfalls on the list above is gorgeous year-round; in truth, each season affords a fresh new perspective, a change of scenery, and the chance to partake in new activities. Although summertime is probably the most popular time to visit waterfalls in Oregon, winter can be equally (if not more) beautiful. For example, a snowy, icy Silver Falls is a truly majestic sight!
Stay With Us on Your Oregon Waterfall Adventure
If you are ready for a waterfall-filled weekend, come stay with us at Silver Spur RV Park & Resort in Silverton, Oregon near Silver Falls State Park. We have full hookup RV sites, authentic teepees, and a cabin available for rent, plus resort-like amenities like a pool, hot tub, game room, and more!