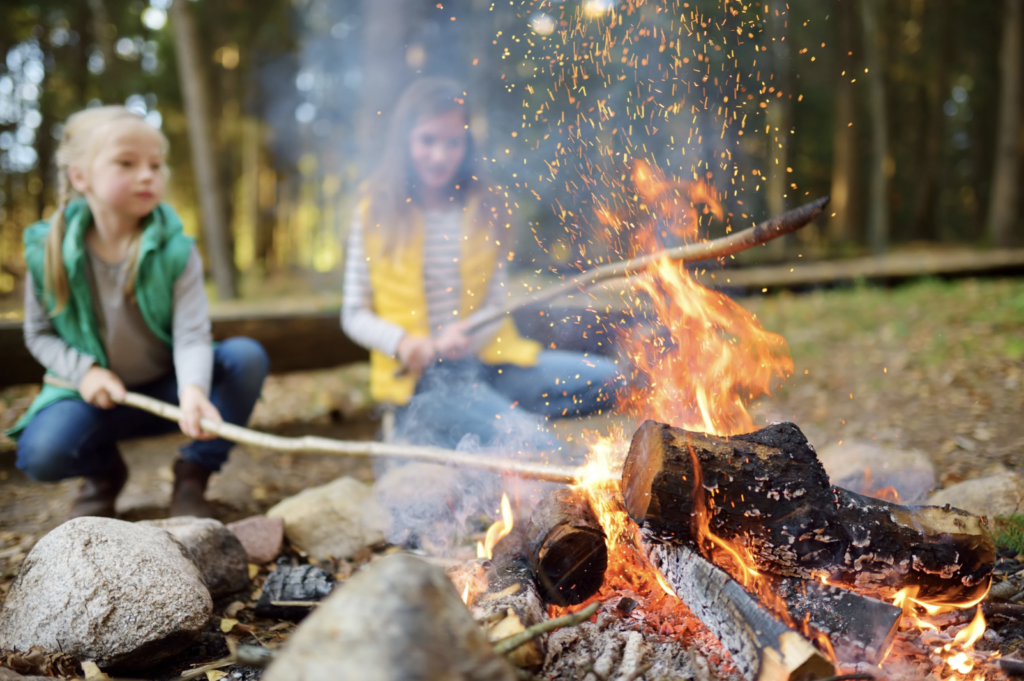 Fun Camping Activities for the Whole Family
More than 40 million people partake in camping activities in the United States each year, including car camping, backpacking, RV camping, and more.
For many of those people, camping is all about slowing down and enjoying the simple things, like sitting by a crackling campfire, enjoying quality time with loved ones, looking up at the stars, or going for a stroll in nature.
But with more downtime than usual, it's also the perfect time to enjoy unique activities that you don't get to experience in your everyday life. If you're looking to get outside of your comfort zone, camping presents plenty of opportunities to challenge yourself and learn new skills!
Here at Silver Spur, we're passionate about helping families make the most of their camping and RV trips, so we put together this guide full of fun and creative camping activities for any age. Read on and make your next adventure one for the books!
Classic Camping Activities for Any Age
Let's start off with the classic camping activities…
Build a Campfire:
At any campsite, the campfire is the hearth, the gathering place, and the center of the action. It's where you start your day with a cup of warm coffee, enjoy your meals, and end your day with the warmth and glow of the firelight. Building a campfire is probably the most quintessential camping activity out there, whether you're alone, with a partner, with friends, or with the entire family.
Get Cooking:
Although just kicking back and enjoying the campfire is a perfectly great way to pass the time, it's even more fun to challenge yourself to some campfire cooking. This could be something as simple as roasting a hot dog on a stick, but it's possible to create entire meals over the coals and open flames if you know what you're doing. To help get you started, here's a great guide to campfire cooking.
Take a Hike:
One of the main reasons people go camping is to get outside and connect with nature. That's why walking or hiking in the wilderness is another classic camping activity. In fact, many people choose their camping destination based on what hikes or natural wonders are in the area. People travel to Silverton, for example, to experience the majestic hiking trails at the world-renowned Silver Falls State Park nearby. Check out our Best Hikes in Oregon article for more hiking inspiration!
Explore Your Surroundings:
Camping can also take you to amazing towns and cities you might never have visited otherwise. Another fun thing to do while camping, especially if the weather isn't ideal, is to take a day trip into the nearest town and see what there is to see. Check out the local cuisine, learn about the local history, visit a farmer's market or festival, and support small, local businesses whenever you can.
Exciting Camping Activities for Kids
The activities below are some of our favorite ways to keep the kids entertained while camping:
Nothing gets kids more excited than trying something new and different. Staying in an authentic teepee will have your kids eagerly counting down the days until your camping trip. Plus, it's a great opportunity to teach them a bit about indigenous culture and history. At Silver Spur, we have several large, cozy teepees for families and children alike, conveniently located next to our regular campsites.
Set Up a S'mores Station:
Roasting marshmallows over the fire is something anyone can enjoy, but it's an extra special treat for the kiddos. To make it even more exciting, set up a s'mores station with lots of fun, unique toppings. The classics are graham crackers, chocolate, and marshmallows, but you can also add sliced strawberries, bananas, peanut butter, candy, Nutella, jam… the list goes on!
Play Lots of Games:
Camping and games go hand in hand. If you don't want to pack too many games, think of simple games that require minimal supplies, like capture the flag, flashlight tag, or a homemade scavenger hunt. These kinds of games will help your kids get all their energy out so they can sleep through the night.
Get Creative:
You don't need to buy games to make camping fun. Instead, see what fun things you can create with the natural materials surrounding you. For example, challenge your kids to try building small houses for "fairies" out of scrap wood, rocks, leaves, pinecones, etc. You'll be amazed by what they come up with!
Go Fishing:
If you stay at a campsite near water, there are even more activities to enjoy, such as fishing. Here at Silver Spur, we have stocked fishing ponds ready to keep you and the kids entertained!
Take a Swim:
In the summertime, there's nothing better than camping somewhere where you and the kids can go for a swim to cool off. At Silver Spur camping resort, we have a heated swimming pool and pavilion that will present hours and hours of fun for the whole family.
Fun Activities Camping Games for Teens
Let's be honest, teenagers can be hard to keep happy and entertained on family vacations. Here are a few ideas to help:
Stay Somewhere Fun:
Staying somewhere like Silver Spur with additional amenities and entertainment options like a pool, hot tub, fishing ponds, TV area, and even a game room will certainly make things more exciting for older kids and teens.
Pack Games for Older Kids & Teens:
Games like capture the flag, ladder ball, or spike ball can be really fun for older kids and teens too. Also, a deck of cards or some board games can really come in handy if boredom hits!
Survival Skills:
Older kids might enjoy learning something new and challenging, like some camping/survival skills. Next time you're camping, pass the torch and ask them to help chop the wood or build the fire to get them more involved.
Unique Camping Activities for Adults
Camping with your partner or other adult friends? We put together a few unique ideas that can help bring all the adults together:
Plan a Potluck or Party:
If you're camping with friends or other adults, why not plan a social event and ask everyone to prepare or contribute something? This is especially fun if you stay somewhere like Silver Spur that has plenty of group gathering spaces. Pick a theme – like taco Tuesday or college game day – to make your soiree extra memorable.
Visit Nearby Wineries & Breweries:
If you're camping somewhere like Oregon, you're never far off from a local winery or brewery. Going wine tasting or taking a brewery tour is a great way to support a local business and sample local produce. Check out this blog post for some of our favorite options here in Silverton!
Go Hot Tubbing:
Here at Silver Spur Resort, we have a hot tub that you can enjoy with friends throughout the year. A relaxing soak in a hot tub is an ideal way to kick off or top off a day full of adventures. You might even forget you're outdoors "roughing it!"
Play Games:
Adults love a good game night just as much as the kiddos. One of our favorite games to play with friends while camping is "Left Right Center" but with dollar bills to up the ante. If you're with a big enough group, you might even win big!
Activities You Can Enjoy While Solo Camping
Camping with family and friends is definitely loads of fun, but camping on your own can be incredibly peaceful and rewarding. Below are some interesting activities to try out while solo camping:
Pack a Journal or Sketchbook:
What better time for reflection than while on your own in the wilderness? Pack a journal and turn your focus inward or bring a sketchbook and get inspired by your beautiful surroundings.
Learn Something New:
When you have lots of uninterrupted time to yourself, you can really master a new skill. Try foraging, go bird watching, take some nature photography, stargaze, practice an instrument by the fire, or learn some new survival skills.
Lounge in a Hammock:
Hammocks can sometimes fit two people, but they are the perfect way to relax when you're alone. Take a nap, kick back with some music or a good book, or simply gaze up at the trees or the starry night sky.
Convenient Camping Activities for Toddlers
Camping with toddlers can be challenging… Let's be honest, anything with toddlers can be challenging! These camping activities will make your trip a little easier:
Go RVing:
Staying in an RV is much more comfortable and convenient than tent or car camping, and this is especially true when you have a toddler in tow. If you don't have your own RV, you can rent one and try out the lifestyle! We recommend renting from Cruise America, where you can choose from a wide range of class C motorhomes and RVs and discover what best serves your needs and likes. If you're not comfortable driving the RV yet, they can even deliver it to Silver Spur and get it all set up for you!
Play at a Playground:
Choose a campsite or RV resort like Silver Spur with a playground, and your little ones will be constantly entertained.
Family Camp Ideas to Create the Perfect Setup
Setting up camp can be a fun (and essential) activity in and of itself. If you can, try to get your family involved and excited about the setup, so that you can work together and learn new things side by side.
If you're camping with kids, safety and comfort are especially important. Here are some tips to help you create the perfect family camp:
Pack plenty of warm clothes and blankets.
Bring enough camping chairs for everyone to have their own seat.
Have a pop-tent on hand in case it rains.
Bring some fun decorations, like a tablecloth or some battery-powered string lights to make the atmosphere more homey and inviting.
Don't forget a first aid kit – safety first, especially with kids!
Stay in an RV instead of a tent for maximum comfort and convenience.
If you do stay in a tent, consider bringing a separate tent for your older kids or a "connecting tent" that has several different sleeping areas.
Pack enough lanterns, flashlights, and/or headlamps for everyone to be able to get around safely at nighttime.
Don't forget the fun stuff!
Last but not least, take time to find a great campsite in a good location, with plenty of activities and amenities for the whole family to enjoy…
Enjoy Endless Camping Activities at Silver Spur RV Park & Resort!
Silver Spur RV Park & Resort is more than your average campsite. We've got endless activities for you to enjoy right here at the park, including a swimming pool, hot tub, group gathering sites, an outdoor patio, a stocked fishing pond, a cozy lodge, a game room, a TV area, a playground, walking trails, and more!
When you're ready to explore the surrounding area, we're conveniently located in the heart of Silverton, close to the charming downtown area, the beautiful Oregon Garden, and the breathtaking waterfalls of Silver Falls State Park. No matter the season, there's so much fun to be had here!
We have a variety of lodging options to choose from too, including teepees, RV sites, and a cozy cabin and bungalow for rent. If you're ready to have some fun, call (503) 873-2020 or make a reservation online.