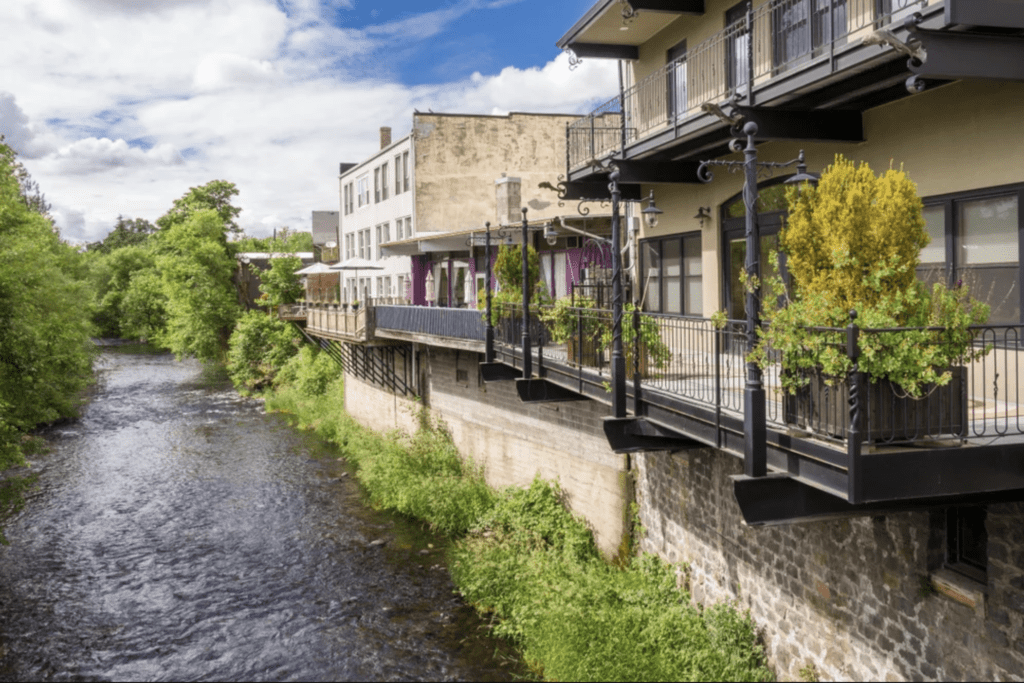 15 Best Things To Do in Silverton Oregon
Silverton, Oregon is affectionately known as one of Oregon's "hidden gems." Miraculously, this incredible town has maintained its small-town charm while offering a wide variety of activities, events, and scenery. In this article, we'll provide 15 great things to do when you visit Silverton, one of Oregon's best-kept secrets.
This family farm has 20 alpacas and 2 llamas. While Silver Falls Alpacas breed and show their animals, they also have a farm store where they sell high-quality alpaca products like yarn, roving, socks, rugs, crocheted scarves, gloves, and felted hats.
Founded in 1882, Mount Angel Abbey is a Benedictine Monastery where they brew their own beer. Benedictine Brewing uses hops grown from their own backyard and brew the beer right at the Abbey!
Frank Lloyd Wright has been called America's most famous architect and after touring one of his homes you'll understand why. The Gordon House is the only Frank Lloyd Wright-designed house in Oregon and can be toured daily – tickets are available for purchase on their website. There is also a 50% discount for overnight guests in Silverton with your reservation info (Silver Spur RV Park & Resort included)!
This outstanding golf course is just 5 miles from Silverton city center. The course features immaculate, manicured greens and nine challenging holes. It also offers incredible views of hills and farmlands which will only make your time on the course more relaxing and memorable!
This family farm has been operating since 1895! At Bauman's Farm and Garden, you'll discover an abundance of fresh vegetables, fruits, and delicious homemade dishes. You can also purchase trees, flowers, and garden plants from the nursery. Bauman's Farm and Garden hosts seasonal, holiday celebrations and events and offers plenty of family-friendly entertainment and outdoor seating.
Open Saturdays May 11th – October 12th, 9 am – 1 pm in Town Square Park, on the corner of Main and Fiske. At the market, you'll find an outstanding selection of locally-grown, fresh produce and berries, pasture-raised eggs and meat, artisan breads and baked goods, plants and flowers, jams and jellies, local honey and beeswax products, unique craft items, and of course, some delicious hot food!
9. Visit outstanding Willamette Valley wineries:
8. Enjoy a microbrew at a nearby brewery:
Silver Falls Brewery

brews "One Small Batch at a Time" and specializes in traditional ales and lagers in historic downtown Silverton. The brewery has an outside patio, complete with a rock fountain and fire pit, as well as a family seating area. There are 24 taps, the majority of which are their own ales, but also feature rotating guest beers, kombucha, rootbeer, and cider. Silver Falls Brewery also offers 13 wines from local vineyards and food by a resident food truck, Loco Ono BBQ, and Catering!

Benedictine Brewing

is the brewery inside Mount Angel Abbey, mentioned above.
At both locations, you'll find fascinating collectibles, furniture, clothes, knick-knacks, and more!
The Oregon Gardens is a stunning 80-acre botanical garden, featuring more than 20 specialty gardens showcasing the diverse, botanical beauty of the Willamette Valley and the Pacific Northwest! The Oregon Gardens hosts incredible events like Movies in the Garden, Barn Dance and BBQ, Christmas in the Garden, Oregon Garden Brewfest, yoga on Fridays and Saturdays, and more! The garden also has a visitor center, gift shop, and nursery.
5. Step back in time at the Gallon House Bridge:
The Gallon House Bridge is a historic wooden covered bridge built in 1916, spanning Abiqua Creek just two miles north of Silverton. During the prohibition era, the bridge was a meeting place for bootleggers and moonshiners, hence the name "Gallon House". Oregon is home to 400 covered bridges, with about 50 still in use today.
4. Enjoy the Silver Creek Reservoir:
On sunny days in Spring and Summer, the Silver Creek Reservoir is a popular recreational area, full of people enjoying the outdoors, swimming, boating, and picnicking. Stocked with roughly 20,000 hatchery trout, the lake is also a great fishing spot.
3. Take a drive to Woodburn:
Less than 20 minutes from Silverton is the town of Woodburn, home to a premium outlet mall for shopping as well as the famous Wooden Shoe Tulip Festival. The tulip fest typically runs from March to May and features over one million tulip bulbs, a wine-tasting room, a gift shop, fun family activities, and special events like live music. You can even view tulips from the air in a hot air balloon ride!
2. Family fun at Coolidge McClaine State Park:
This park in Silverton is located just off Silver Creek and is full of beautiful, shady trees. With charcoal barbecues, horseshoe pits, paved walkways, a large covered pavilion, lots of picnic areas, and a fun playground, it's the perfect place to host a special event or summertime barbeque with the whole family.
One of the most famous locations in the area, and even the state, Silver Falls State Parks offers sights you'll never forget including a 177-foot waterfall that you can walk behind! We encourage you to hike the 'Trail of Ten Falls,' a nationally recognized hiking trail that passes breathtaking waterfalls and offers incredible views of the forest and winding creek. There are several trail options varying in difficulty and length- this is an absolute "must-do" while in Silverton!
Recap of Things to do in Silverton Oregon
As you can see, Silverton, Oregon, and the surrounding area offer a wide range of unique and exciting activities. This popular travel destination also offers quaint restaurants, unique shopping venues, colorful outdoor murals, art galleries, and more!
With so many activities to do and places to see, we suggest staying in town and making a whole weekend of it (at least)! Silver Spur RV Park and Resort offers RV spots, a cabin, teepees, a hot tub, pool, a fishing pond, and so much more.
"You have become the gold star example of an RV park. Full hookups and cute, almost community building, [with] things to do in the evenings. We will continue to come here as there is still a bunch we did not get to. Silverton has many gems for dinner options to try something local too!" – Robert L., Google Reviews
For busy weekends, it's best to book your stay with us early.
We can't wait to host you and show you all that Silverton has to offer!