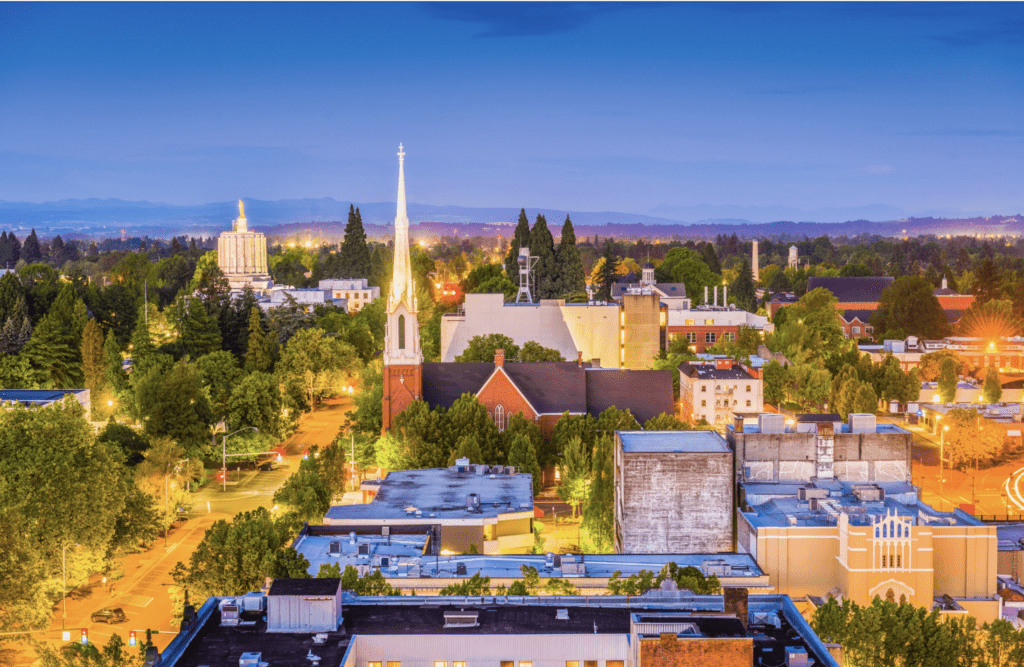 Things to Do in Salem Oregon
Are you planning a trip to Salem, Oregon? If so, you're in for a real treat!
Salem is the capital city of Oregon and the state's second-largest city after Portland. It is conveniently located less than an hour's drive south from Portland along I-5, in the heart of the lush Willamette Valley. The Salem area is home to stunningly beautiful natural scenery and plenty of attractions to suit any kind of visitor… So if you're headed to the beautiful state of Oregon, make sure Salem makes it onto your list of places to explore!
Fun Things to Do in Salem Oregon
Explore Silver Falls State Park: One of the most popular things to do in the Salem, Oregon area is to visit Silver Falls State Park, which has been dubbed "the Crown Jewel of Oregon." Here, you can hike the famous "Trail of Ten Falls", a nationally recognized hiking trail that passes breathtaking waterfalls, including a 177-foot waterfall that you can walk behind! Silver Falls is a 35-minute drive from Salem and the day-use fee is just $5. Make a day of the trip and stop in the quaint, historic town of Silverton for some creekside dining, antique shopping, or to visit the beautiful Oregon Gardens.
Attend a festival, market, or event: As the capital city, Salem hosts many great festivals and events throughout the year. During the summer, you can attend exciting events such as the Salem Art Fair and Festival, the Bite of Salem, the Oregon State Fair, and the World Beat Festival. From May through October, be sure to check out the Salem Saturday Market or the Wednesday Farmers' Market. For more fun options, check out Travel Salem's event calendar.
Sample seasonal Willamette Valley produce: The Willamette Valley is home to over 500 wineries and vineyards and is recognized as one of the best wine-producing areas in the world. If you go winery hopping, definitely sample some Pinot Noir varietals, which are world-renowned and have won countless awards. If wine isn't your thing, there are also some great farms in the Willamette Valley/Salem area, where you can pick, purchase, or sample fresh and seasonal produce.
Weird Things to Do in Salem Oregon
Be enchanted at the Enchanted Forest: One of the wackiest and most wonderful things to do in the Salem area is to spend a day with your family exploring the Enchanted Forest amusement park. This isn't your typical amusement park! This whimsical park opened in 1971 and is largely homemade. Here, you can go on fairytale-inspired rides, pan for gold in a river, slide down a giant witch's tongue, watch a 359-water-jet fountain light show, and much, much more. And it's all just a fifteen-minute or so drive from Salem!
Visit one of the smallest city parks in the world: Waldo Park in the city of Salem, measuring just 12' by 20', was established to protect a single Sequoia tree. It's a tiny yet terrific tribute!
Sample beer brewed at a monastery: Founded in 1882, Mount Angel Abbey is a Benedictine Monastery where they brew their own beer. Benedictine Brewing uses hops grown from their own backyard and they brew the beer right at the Abbey! If you go, be sure to enjoy a stroll around the peaceful property. This brewery is 30 mins or so from Salem, but it's definitely unique and worth the trip!
Free Things to Do in Salem Oregon
Spend a day at one of Salem's many parks: Salem's Riverfront Park, located adjacent to downtown, is a great place for a stroll along the Willamette River. If you go, be sure to check out the Salem Carousel, which has more than 40 horses that were carved by hand by local volunteers. Also in Salem, Bush's Pasture Park houses natural groves of native Oregon White Oak trees, historic buildings, a rose garden, and more. Other parks worth a visit are Minto-Brown Island Park, the largest in the area, and the Adelman Peony Garden.
Tour the historic Oregon State Capitol: If you enjoy history or architecture, don't miss a trip to the Oregon State Capitol, where you can explore gorgeous buildings, historic exhibits, and expansive park grounds. You can either take a tour with a guide or do a self-guided tour.
Admire the abundant cherry blossoms: Did you know that Salem, Oregon, located just 25 mins from Silver Spur, is one of the top places in the world to see cherry blossoms? Witnessing over 40 acres of cherry trees in bloom is truly a magical sight! Throughout the month of March, local businesses, wineries, and even the State Capital hold fun events to celebrate the beautiful bloom.
Where to Stay in Salem Oregon
If you're planning a trip to Salem and are looking for unique accommodation, forget the motels in town and opt for some Salem OR RV camping instead!
Silver Spur RV Park & Resort is one of the best camping spots in the Willamette Valley, conveniently situated between Salem and Silver Falls State Park, with plenty of RV sites, teepees camping, and a cabin for rent. Our resort-like amenities include a pool & hot tub pavilion, a game room, group gathering areas, stocked fishing ponds, walking trails, and much more.
We can't wait to host you and help you discover all that the Salem/Silverton area has to offer!