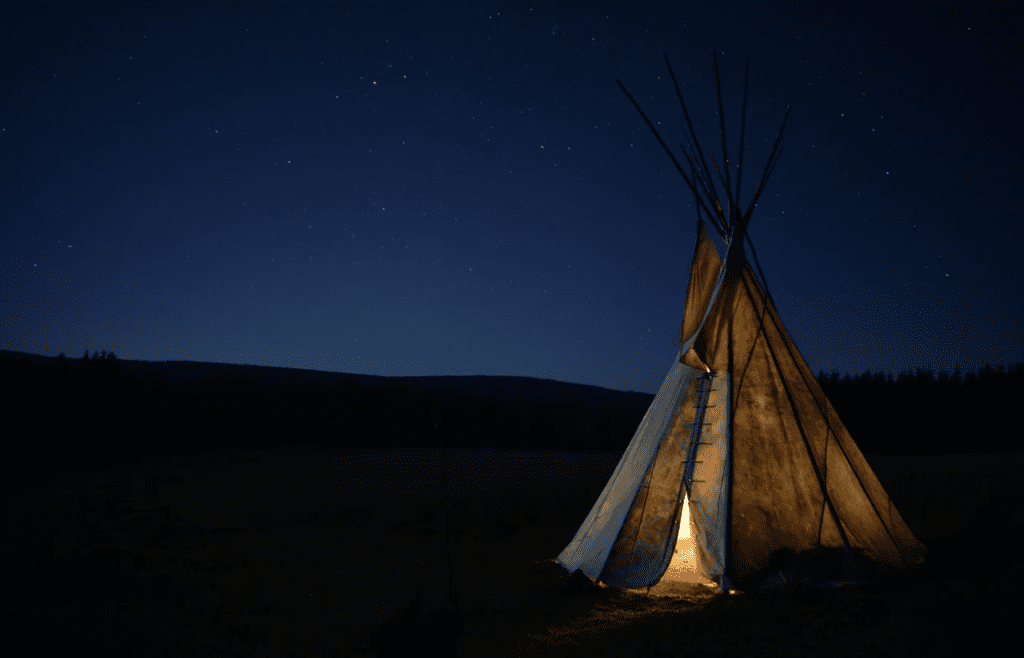 Teepee Rentals: A Unique & Memorable Vacation
Teepee rentals (or tipi) offer a very unique and memorable experience, perfect for the young or the young at heart!
A night in a teepee is a special opportunity to feel more connected to your natural surroundings and experience a different, more elemental way of life. Studies have shown that camping in nature, whether in a tent or teepee, can even help reduce anxiety and depression.
Teepee camping can be especially exciting for children, and you can use the experience to spark their curiosity and interest in the history and culture of indigenous peoples.
In this article, we'll share some of the best teepee rentals in the United States to help you plan a one-of-a-kind vacation and create memories to last a lifetime.
Getting Started with Teepee Rentals
As you may know, teepees were used as homes, community gathering areas, and sacred spaces by nomadic, indigenous tribes of the Great Plains. Originally made with buffalo hide, modern teepees are now typically made of thick, weather-proof canvas.
Teepee structures are great for camping, no matter the weather, as the cone-like shape allows for natural water runoff and airflow. This incredible invention holds warmth in the colder months and can stay cool in the summers. With the right setup, you can stay comfortable and dry in a teepee year-round!
Nowadays, teepees are used for spiritual, educational, and recreational purposes. You can now find teepee rentals in many incredible locations across the United States. Alternatively, you can rent or buy a teepee to set up on your own. Let's explore your many options…
Teepee Vacation Rentals: What to Look For
There are many different types of teepee vacation rentals to choose from. First of all, teepees come in several different sizes. For example, here at Silver Spur, we have large 22ft teepees available for rent. The larger teepees have enough room to comfortably accommodate families and larger groups, with two twin beds and one queen-size bed.
Some teepee rentals come with more amenities than others, so be sure to check on this when you're making a reservation. For example, sometimes you will need to pack your own bedding. Depending on your preferences, a teepee rental experience can be authentic, fancy (think "glamping"), or more rustic.
You can find teepee rentals on Native American reservations, home-sharing sites like Airbnb or HipCamp, state parks, and RV resorts like Silver Spur.
A Few of Our Favorite Teepee Camping Experiences in the United States
Below are a few great teepee rental options around the United States:
Grand Canyon Ranch Resort in Arizona: This resort with teepee rentals is located close to the West Rim of the Grand Canyon, a great home base for adventures of all kinds. The resort also offers unique experiences like wagon rides and western-style music in the evenings.
The Northern Cheyenne Indian Reservation in Montana: For a more traditional and cultural teepee camping experience, you can stay on a Native American reservation in Montana and join a tour led by a traditional Cheyenne spiritual leader and his family, who will guide you in the ways of his ancestors and modern-day Cheyenne people.
Monument Valley Tipi Village in Utah: This is a good option if you're looking for a more rustic teepee camping experience. Plus, the scenery of Monument Valley is hard to beat!
Silver Spur Resort in Oregon: Here at Silver SpurRV Park & Resort in Oregon, you can stay in authentic teepees and still enjoy convenient, resort-like amenities. Close to the charming town of Silverton and the stunning waterfalls of Silver Falls State Park, you'll have plenty to keep you entertained during your stay!
These are just a few popular teepee rental destinations – you'll find many more with some online research!
Teepee Tent Rentals
Another option is to rent or buy a teepee tent and put it up yourself. Though less convenient, and possibly less authentic, this offers the opportunity to place the teepee anywhere you can find a camping spot. You could even set up camp in your very own backyard for a party or sleepover. To find a teepee tent for rent, check with event planners and party rental websites in your area.
Teepee Rentals Oregon: Make Memories at Silver Spur!
Silver Spur RV Park & Resort is the perfect place to try teepee camping for the first time.
Our authentic teepees are set on raised decks and will easily protect you from the elements while keeping you close to nature! They come with a charcoal BBQ, picnic table, free wifi, and access to resort amenities like a new bathhouse, pool, hot tub, game room, lodge, stocked fishing ponds, and covered outdoor patio.
We hope to host you soon and help you experience the magic of teepee camping!