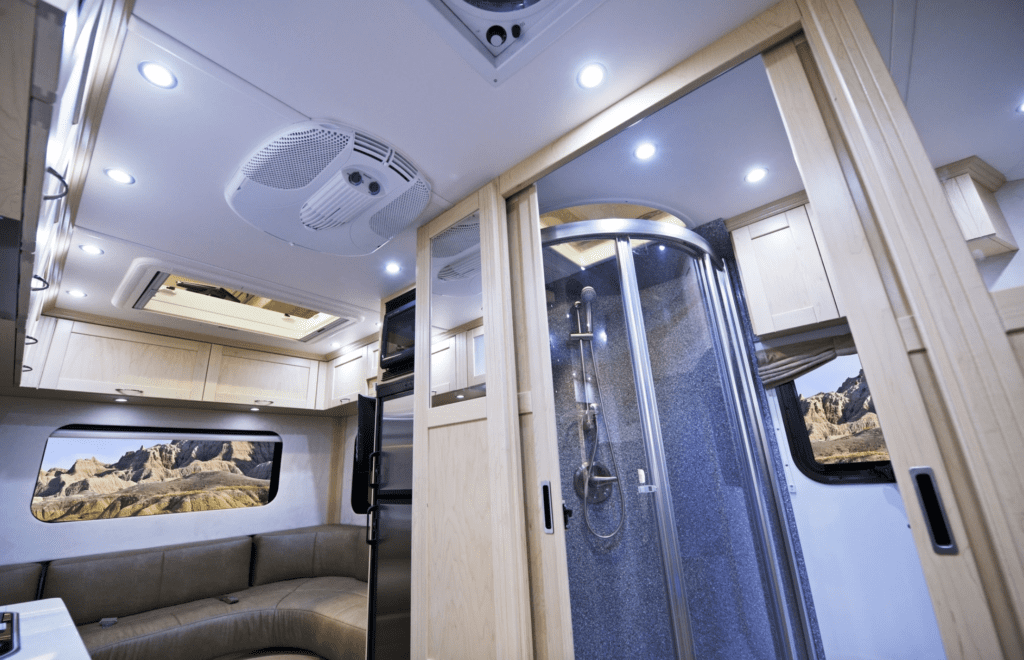 Creative RV Shower Upgrades and Ideas
In an RV or camper with limited space, you might think there's no room for a shower that is both comfortable and inviting. You probably picture a cramped and claustrophobic space. Well… think again! A few creative and carefully thought out upgrades can completely transform your mobile bathroom and make you actually look forward to a shower in your RV.
In this article, we've compiled some of our favorite RV shower ideas to get you excited about all the possibilities. Let's get started!
An Introduction to RV Shower Upgrades and Ideas
With a few key upgrades, RV showers can be appealing and functional, but there are still some key differences between regular showers and RV showers. First and most obviously, they tend to be smaller and more compact than regular showers. Sometimes, RV bathrooms are "wet bathrooms," which combine the toilet and shower areas in order to save space. Also, the average RV water tank holds between 20 and 100 gallons of freshwater water, depending on the RV class. Unless you can hook up to water, you will likely take shorter and less frequent showers in your RV to conserve water. You may also want to invest in a low-flow showerhead to help minimize your water use. Keep reading to explore these RV shower options and more creative ideas in detail!
Our Favorite RV Shower Ideas
Below are some of our favorite RV shower solutions to help get your RV bathroom remodel started:
Upgrade to a Low-Flow Shower Head: Installing a low-flow or water-conserving shower head in your RV shower is a no-brainer that can help reduce your water consumption. However, be careful in your selection, and be sure to choose one that still has high water pressure. If a good shower is important to you, upgrading to a top-of-the-line RV showerhead is probably a worthwhile investment.
Go With a Wet Bathroom: Wet bathrooms aren't for everyone, but they can be a great solution if you have limited space. They also provide a place to sit while showering in case you need it.
Add a Skylight: Adding in a skylight above your RV shower immediately opens up the space and makes it feel much brighter and less cramped. RV shower skylights are usually made of plastic and come in a few standard sizes.
Upgrade to a Glass Door: Upgrading your shower curtain to a glass door is another improvement that can drastically open up your RV shower and make it feel less claustrophobic and more modern.
Stick to Minimalist Design: In general, minimalist design is great for small spaces because the lack of clutter and simplicity helps to make spaces feel larger. Furthermore, many studies show that a clutter-free living space can positively impact mental well-being.
Get Creative: For a more unique and DIY look, you can create a shower base out of a horse trough, an industrial-style trough, or even a wooden barrel. If the base is large enough, it can even act as a small soaking tub.
Take it Outside: Why not think "outside of the box" that is your RV bathroom and consider adding an outdoor shower? Outdoor showers are great for those who frequently camp in good weather and enjoy an alfresco showering experience. They're also useful for people who travel with dogs or kids and want to minimize messes indoors.
These are just a few popular RV shower ideas. Next, we will take a closer look at RV water heaters and bathtub options.
RV Shower and Water Heaters
RV water heaters can either be tankless or standard with a tank. Tankless RV water heaters are usually the preferred choice because they can heat water instantly with a heat exchanger, meaning you won't have to store hot water in a tank. Compared to non-tankless RV water heaters, tankless ones are slightly more expensive on average, but they use less fuel and propane, minimize storage needs, and provide a constant flow of hot water.
You can compare different tankless RV water heaters by looking at how many gallons of hot water they provide per minute (often between 2 and 5 gallons). Some are more energy-efficient and sustainable than others, although this can also mean they're a bit more expensive. Also, some use propane and others use electricity.
Thinking About an RV Bathtub?
When you think of an RV bathroom, you probably don't even consider having a bathtub, but with a little planning and creativity, it's certainly possible! Especially if you tend to camp places with full hookups and don't have to worry about depleting your water supply. Walk-in soaking tubs are a popular choice for RVs because they can be very compact, but with higher edges, which results in a deeper tub. Rather than have to step over a super high edge, you can simply open the door on the side and walk right in. They are also more water-efficient; while an average tub can use up to 80 gallons of water, a standard walk-in tub uses about 50 gallons (even less for an RV-sized walk-in tub). If a walk-in tub isn't what you had in mind, there are other options like compact corner tubs to consider as well.
RV Shower Recap
We hope that these RV shower ideas help get you excited about all the possibilities! With some careful planning, research, and creativity, your RV bathroom can be transformed into a functional, enjoyable, and beautiful space.
Don't let a less-than-perfect bathroom keep you from enjoying your RV though! Hit the road and visit our Salem OR RV Park – where we have full RV hookups and great shower facilities in addition to many other resort-like amenities, so you won't have to worry about forgoing a shower after a long day of adventuring.
Make a reservation online today – we can't wait to host you!