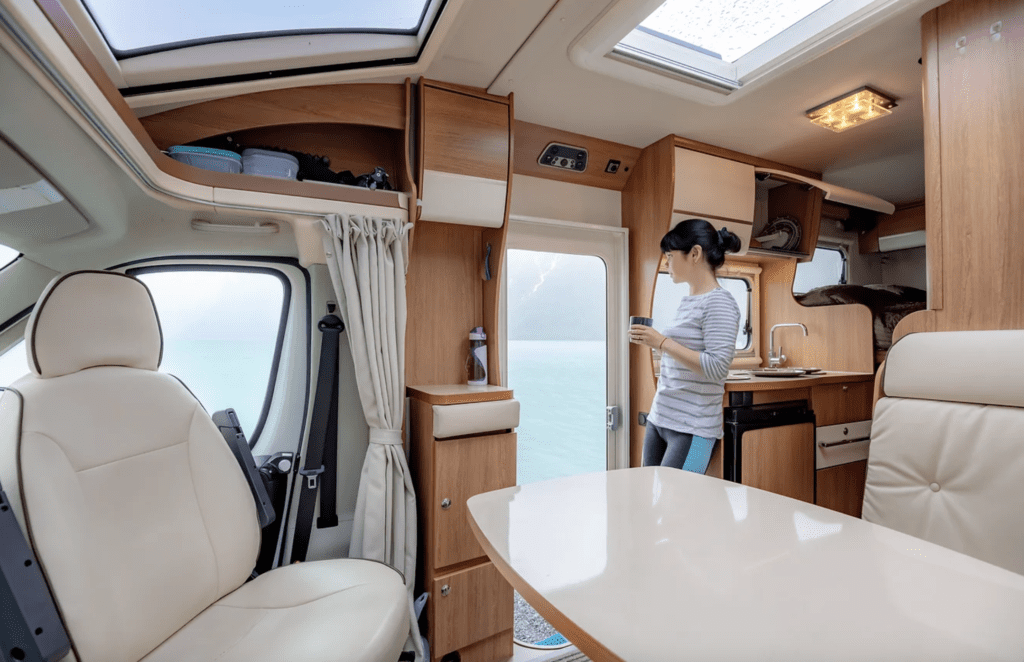 Understanding Your Options with RV Interior Upgrades
It's no surprise that our moods and emotions are impacted by the spaces we spend time in. A poorly designed, cluttered, cramped RV can make you feel depressed and stressed. On the flip side, a beautiful RV interior can make you feel comfortable, happy, and serene. Spending time in your RV should have you feeling refreshed and rejuvenated, not dreaming of a vacation from your vacation.
We care deeply about our fellow RV-ers and want them to enjoy the RV lifestyle as much as we do. That's why we put together these tips and tricks to help you make the most of your RV with a smart and beautifully designed interior. And don't worry, updating your RV interior doesn't have to cost much – even simple changes like a fresh coat of paint can go a long way in transforming your space.
When your renovations are complete and you're ready to hit the road, come stay with us at our Salem Oregon RV Park and Resort and experience the wonders of the Willamette Valley!
Get Creative with Smart RV Interior Ideas
The most challenging part of designing an RV interior is limited space. However, this challenge can also be seen as an exciting opportunity. Less space means you can make a drastic transformation without dedicating too much time or resources to the process. It also means you can plan out every inch of space thoughtfully and intentionally to make the most of it.
To help get you started, below are a few RV interior design considerations to keep in mind as you create, update, or renovate your RV:
Color Matters: Certain paint colors can help make your RV interior appear larger than it is. Stark white is the most obvious choice, but if you want something a bit more interesting, consider colors like light taupe, blush pink or cool gray.
Think Outside the "Box": Don't forget to think beyond the walls of your RV and make the most of outdoor space. For example, you can create an outdoor living area with great fold-away outdoor furniture, an outdoor bbq, a movable fire pit, lawn games, and more.
Keep it Light & Bright: One of the rules of designing small spaces is to keep them as light and as bright as possible. Updating the lighting in your RV is a quick and easy way to transform the space and make it appear larger and more inviting.
Be Practical: Think about how your RV is going to be used and design the interior with practicality in mind. For example, even if you love carpeting, it might not hold up well against those sandy, muddy outdoor adventures. Opt for materials that will make life on the road easier, not more difficult.
Think Tiny: The tiny house movement is booming. If you need some inspiration for your RV interior, look to tiny homes for innovative and modern interior design ideas.
RV Floor Plans & Layout Tips
An RV remodel is a big undertaking, and with so many ideas and possibilities, it can be hard to know where to begin. Thinking about the layout is usually a good place to start.
Below are a few tips to consider when working on your new floor plan:
Pay attention to the location of the main entry. You will probably want a little bit of separation between the entryway and the main living space to minimize disruptions while you're relaxing, reading, or watching TV.
Be sure to think about the flow of traffic, especially if you have kids or a family that you share the space with. How will people move around the space and access different areas?
Consider incorporating one or more wall slides to expand and maximize your living space. Although slides do require some maintenance and upkeep, most RV owners find that they're worth the extra work. That being said, you probably want to make sure at least the main areas like the kitchen, bathroom, and bedroom are accessible and usable even when the slides are in.
You should probably plan for at least two separate rooms/living areas unless you're living alone and are fine with a studio-style layout.
Prioritize! Think carefully about how you will use your RV and your personal preferences. Maybe you prefer to cook al fresco on the grill and can forgo a bit of space in the kitchen to make room for more bedrooms.
For bathroom layout options and space-saving ideas, check out our other article on Creative RV Shower Upgrades and Ideas.
Read on for more specific ideas to incorporate into the different living areas or "zones" of your RV.
Creating Multi-Use Spaces
With limited space, you'll have to get creative in order to make the most of what you have. Creating convertible, multi-use areas is a great way to maximize on space and make your RV more versatile and flexible. Below are just a few ideas to help get you inspired:
An RV dining area can easily be transformed into an extra bed. All you need is a table that lowers down to meet with the seating and some movable cushions to create a comfy sleeping area.
A living room area or sofa can also serve as an extra sleeping space. There are many convertible sofa beds out there to consider – some of which even turn into bunk beds, providing not one but two extra beds.
Fold-down tables are a great way to add extra dining space, a kitchen counter room, or even a hideaway workstation.
Throughout the RV interior, be sure to think creatively about where extra storage space can be incorporated. Can drawers be added under seating areas or coffee tables? Is there room for shelving up top? Can the headboard of the bedroom act as a hidden dresser? Leave no stone left unturned and no space left unused.
Space Saving Ideas for RV Appliances and RV Cabinets
When designing an RV kitchen, you may have to prioritize your needs and make some compromises. Which appliances are a must and which can you live without? Do you really need a microwave? A dishwasher? You should design your kitchen around the way that you cook and eat while you're on the road.
Another thing to keep in mind is that there are tons of space-saving kitchen appliances and equipment specifically designed for RV or tiny home living. For example, most RV kitchens use miniature rather than full-size appliances to save space. Organization is also extremely important when it comes to RV kitchens. Here are just a few tools and tricks that can help you make the most of your tiny kitchen:
Collapsible colanders and dish tubs
Nesting / stack-able pots and pans
A hidden hanging wastebasket that sits behind a cabinet door
Over-cabinet door organizers to hang cutting boards and other tools
Magnet strips for hanging spices or knives
Fridge organization containers
Mini hammocks for fruit or vegetables
Fold-up or roll-up drying racks
Removable counter space
And much, much more!
Key Considerations for RV Flooring
The flooring you choose for your RV will have a big impact on the overall look and feel of the space. It will also affect your daily life; more practical flooring will be easier to clean and maintain, while less practical options will require more frequent cleaning in order to look nice and last longer. Here are some factors to consider when choosing your new flooring:
Durability: Some flooring, such as carpet, is more subject to wear and tear and will need to be replaced sooner than other, more durable materials. Durability is especially important if you plan to use your RV frequently or live in it full-time.
Water-Resistance: This is an important consideration for outdoor enthusiasts, those traveling with dogs or children, or those based in wetter climates such as the Pacific Northwest. A wet, muddy carpet doesn't sound very cozy or inviting, does it?
DIY-Friendliness: If you plan to go the DIY route, look for flooring that is easy to install.
Style: With limited space, the look and color of your flooring will help set the tone for the overall feel of your RV. Think about how the flooring will look alongside the other materials in your space, including fabrics, paint colors, furniture, and more.
Comfort: Of course, you also want your living space to be as comfortable and cozy as possible. This may be a matter of personal preference.
Weight: Many people forget to think about the weight of different materials, but this is super important! Too many heavy materials can negatively impact your gas mileage and fuel efficiency. If you plan to travel with your RV, weight is a key consideration.
Price: This is a more obvious factor to consider. We'll talk more about costs and budgeting for your RV renovation in the sections below.
Vinyl flooring is one of the most popular RV flooring options, preferred for its versatility, ease of installation, durability, water resistance, and ease of maintenance. Carpet and laminate flooring are other popular choices. Carpet is comfortable and easy to replace, but harder to keep clean. Laminate is affordable and easy to install, but less water-resistant than vinyl. Hardwood is another option, but although it looks great, it's heavier than other flooring and can lower your fuel efficiency.
Bright Ideas: RV Lights and RV Light Fixtures
Before you start thinking about which light fixtures to buy, consider how you might be able to incorporate more natural light into your RV. Extra windows and skylights can go a long way in making your RV feel brighter and less cramped or claustrophobic!
When it comes to additional lighting, you'll want to think about whether you will have electrical hookups when you're traveling or living in your RV or if you'll be going off-grid. If you plan to spend time off-grid, you'll definitely want to consider alternative energy sources, like solar panels, and battery-powered lights.
The size of your RV will help you determine how much lighting you'll need to add. LED lighting is extremely popular for RV interiors because it's bright yet highly energy efficient. Furthermore, they're easy to install, safe, and incredibly long-lasting. Different types of fixtures include under-cabinet lighting, ceiling dome lights, small wall-mounted lights, light bars or strips, and recessed ceiling lights, among many others.
How Much Will an RV Renovation Cost?
If you look at examples of RV renovations online and compare costs, you'll quickly notice that it's hard to know what to expect; remodel costs vary greatly and there are often surprise costs that come up in the middle of a project. Generally speaking, RV renovations often range from a few thousand dollars for a more simple, DIY remodel to more than 25 thousand for a full-blown, luxury remodel.
Some of the major factors that affect the price are the extent of the remodel, the type of RV you're remodeling, how much you are willing/able to tackle on your own, and the cost of the materials, appliances, and furniture you choose, among other things. It is typically less expensive to renovate a small, vintage trailer than a larger motor coach, for example.
For a better idea of the cost, we recommend looking for examples of similar RV renovation projects online. Then, when drafting up your budget, be sure to include a contingency plan so that your project isn't completely derailed if and when unexpected expenses arise.
Get the Most Out of Your RV Interior!
Once your new-and-improved home on wheels is up and running, we invite you to kick off your adventures with the best RV camping in Silverton at Silver Spur RV Park & Resort!
Of course, no matter how beautiful your RV interior is or isn't, don't forget why you purchased an RV in the first place: to get out there, travel, explore and LIVE! You shouldn't let an imperfect setup or outdated interior stop you from enjoying your RV. Come stay with us at Silver Spur, where our resort-like facilities and the endless activities and sights of Silverton will keep you so busy making memories, you won't have time to worry about your RV interior!