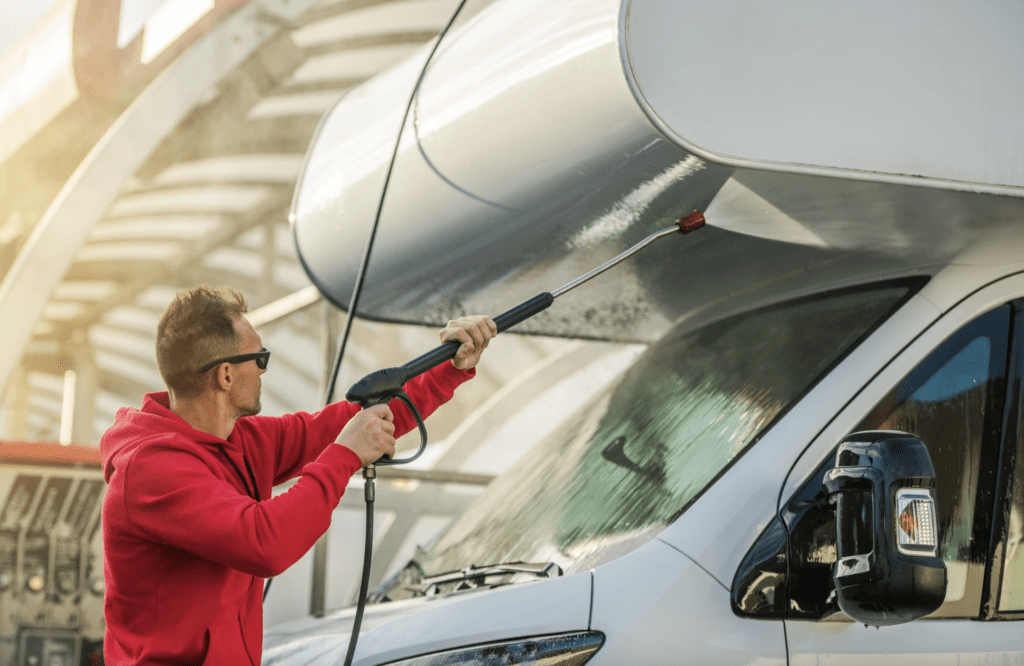 RV Detailing 101: Understanding the Basics
Regular RV detailing is the best way to keep your RV looking great. To help get you started, we've put together this overview of the RV detailing process and the supplies you'll need to get the job done right.
Once your rig is looking shiny and new, you'll be ready to hit the road and visit our top-rated OR RV Park: Silver Spur RV Park & Resort!
What does RV Detailing Include?
RV detailing is the process of thoroughly cleaning (and repairing where necessary) the interior and exterior of your RV to improve and maintain its appearance. RV detailing is called detailing for a reason: it's all about perfecting the little details of your vehicle. Therefore, there are many steps involved in a full interior/exterior RV detail.
RV detailing includes the following steps and tasks:
Roof Cleaning: Detailing usually goes from top to bottom. The best cleaning products and methods for your RV roof depend on whether you have a fiberglass roof, a rubber membrane-style roof, or another type of roof, so be sure to take this into account. Fiberglass roofs are prone to oxidation — if they appear chalky or ashy then you may need a strong cleaner like Davis Fiberglass Stain Remover.
Overall Exterior Washing: There are multiple methods of RV washing, some dry and some wet. If you are wet washing, be sure to clean and dry full sections at a time to avoid streaks. You can usually use a standard RV washing soap, but again, check that you're using the right product for your type of RV siding.
Bug Removal: The longer you wait to remove bug splatter from the front of your RV, the more difficult it becomes. To remove bugs you can either use an automotive washing mit, a chemical bug remover, or make a cleaning solution with dryer sheets and water. Keeping your RV front washed and waxed will help prevent further hard-to-remove bug splatters.
Awnings: To clean your RV awnings, you may want to use a cleaning product specifically designed for automotive tops that clean deeply but are gentle on the paint and fabric.
Tire Cleaning: As you work from top to bottom, this should be the last step in the exterior cleaning process.
Exterior Waxing: Once a thorough cleaning of the exterior is complete, you can wax your RV. You can either go for a wipe-on and buff-off type of wax (more thorough and time-consuming) or an easier spray-on and wipe-off type of wax.
The Extra Mile: There are certainly additional, more professional steps to make your RV exterior shine. These include but are not limited to clay-bar paint decontamination, paint sealing, wheel polishing, glass cleaning, and water repellent for the windshield.
Interior Detailing: Interior RV detailing typically involves at least the following tasks: carpet cleaning, seat cleaning, cup holder cleaning, dash and crevice cleaning, vent cleaning, and odor removal, among others.
RV Detailing Prices and Options
You can leave your RV detailing to the professionals or go the DIY route. Either way, there are certain costs to keep in mind.
If you're taking on the process yourself, it's important to note that you may need to purchase a bunch of tools and cleaning supplies, including basic supplies like buckets, sponges, brushes and rags, cleaning supplies for windows, siding, roof, awnings and more, a hose mounted foam gun, a power buffer tool for waxing, a shop vac or run shampooer for interior cleaning, touch up paint and more. Therefore, the first time you detail your RV yourself will be the most expensive. Of course, the "do-it-yourself" option will also eat up more of your precious time, adding to the overall cost.
On the other hand, professional RV detailing may cost anywhere from $15 to $40 per foot of your RV, depending on the level of service, your location, whether it's just interior, exterior, or both, and other factors. So if your RV is large, the cost of professional RV detailing will likely be significant. If you are detail-oriented, physically able, and have the time and patience, doing the RV detailing work yourself can save you money and end with professional results.
Our Favorite RV Wax and RV Wash
You might be feeling overwhelmed by the daunting task of detailing your RV. The good news is that there are some RV detailing products available that conveniently combine the washing and waxing steps to save you time. Though there are plenty of other great products out there, these are two with top-notch customer reviews:
Gel-Gloss RV Wash and Wax is one of the most popular and highly-rated products for RV detailing. It's biodegradable, safe, easy to use, and leaves no streaking or water spots.
Another option is Aero Cosmetics Wet or Waterless Car Wash Wax, which is especially known for removing tough black streaks and also provides UV protection. What's more, this product is very versatile and can be used to clean plastic, gel coats, rubber, glass, chrome, leather, aluminum, and paint.
Recap of RV Detailing and Key Takeaways
As the name implies, detailing an RV is a detailed process with many intricate steps and specialized supplies involved. Depending on your preferences, you can either detail your RV on your own or hire a professional. Whatever you choose, the important thing is to take care of your RV and do it regularly so that you can enjoy it for years and years to come!
In our opinion, the best place to enjoy your sparkling clean RV is here at Silver Spur RV Park & Resort, one of the top-rated RV parks in Oregon. Silver Spur is nestled in the heart of the beautiful Willamette Valley, close to the quaint town of Silverton and the world-renowned Silver Falls State Park, making it the perfect base for exploring what Oregon is known for: incredible natural scenery, impeccable produce, kind and welcoming people, and endless outdoor adventures. On top of all that, with our park's resort-like facilities – including a pool and spa, game room, stocked fishing ponds, group gathering spaces, and more – you may never want to leave.
Note: Unlike many parks, we permit RV cleaning during your stay, just in case you need a touch-up between adventures!
Reserve your stay with us online now. We can't wait to host you!