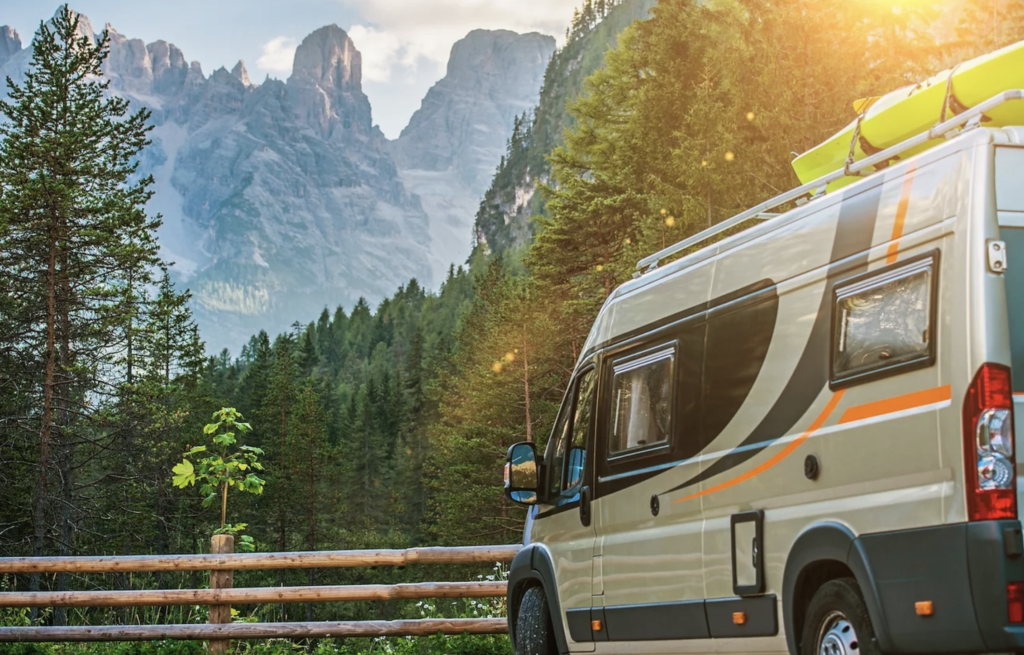 Our Favorite RV Destinations Across the US
The United States is full of incredible RV destinations, including more than 13,000 privately owned RV parks and over 1,600 state parks with RV sites.
With so many places to visit, it can be hard to narrow it down and choose the perfect RV destination for your next vacation. We put together this list of some of the top RV destinations around the country to help get you inspired so that you can make the most of your RV throughout the year!
Stay Cozy at These Winter RV Destinations
If you want to make the most of wintertime rather than escape the winter weather, we recommend you check out these RV destinations:
Hot Springs National Park KOA in Arkansas: What could be better than soaking in healing hot springs during the wintertime? This park is nestled in the foothills of the beautiful Ouachita Mountains, just minutes from Hot Springs National Park and the historic downtown area. The park also offers some unique amenities, including mini-golf, to keep the whole family entertained.
Mammoth Mountain RV Park in California: Mammoth Mountain has one of the longest skiing seasons in the country. The mountain has three snow parks and more than 150 ski runs, so this is the perfect destination for winter sports fanatics.
Silver Spur State Park in Silverton, Oregon: Our very own park is another magical place to visit in the wintertime. At our top-rated Oregon RV park, you can get in the holiday spirit at the nearby Oregon Gardens' famous Christmas in the Garden event, which features over one million lights! Silver Falls State Park is also gorgeous in the wintertime; the snowy, icy waterfalls are a sight to behold!
Skip Winter at These RV Snowbird Destinations
If you're a snowbird who prefers to travel south to warmer weather during the wintertime, it's hard to beat these RV destinations:
Crystal Cove State Park in Laguna Beach, California: Located along the Pacific Coast Highway between Corona del Mar and Laguna Beach, this is a great place to stop and explore as you take a road trip down south. Crystal Cove State Park is one of the largest remaining natural seashores in Orange County. The area is also home to some beautiful hiking trails in Moro Canyon and on Moro Ridge.
Lake Havasu State Park in Lake Havasu City, Arizona: Located right on the shores of Lake Havasu, this is the perfect RV destination for water sports and fishing enthusiasts. This state park has plenty of boat ramps, beautiful beaches, nature trails, and much more! It's also conveniently located close to Lake Havasu City.
Bahia Honda State Park in Florida Keys, Florida: If you want to escape to a tropical paradise, this is the spot for you! Bahia Honda is a virtually uninhabited island in the Florida Keys with extensive sandy beaches. Popular activities include swimming, fishing, kayaking, snorkeling, and other water sports. You'll feel like you're on a remote, faraway island, but you can get there easily in your RV!
Beat the Heat at These Summer RV Destinations
If you're looking to beat the heat this summer, get outside, and get active, consider one of these incredible RV destinations:
Grand Tetons National Park, Wyoming: Here, you can raft the Snake River, go horseback riding, fish at Jackson Lake, go boating at Colter Bay, and so much more. There are four campsites in the park with RV sites, so you can pick one or visit them all! Plus, Yellowstone National Park is close by in case you want to take a summer road trip with multiple stops.
Lakedale Campsite in the San Juan Islands, Washington: The San Juan Islands in the Pacific Northwest are home to beautiful forests, pristine lakes, beaches, farms, and incredible wildlife, including pods of wild orcas! Lakedale is the only campsite on the island with RV spots. Here, you can kayak, fish, play bocce ball, stand-up paddleboard, and much more.
Silver Spur State Park in Silverton, Oregon: Oregon is an incredible state to visit during the summertime. The weather is mild and perfect for outdoor activities of all kinds. There's nothing quite like a refreshing waterfall swim after a long hike in the summer, and Silver Falls State Park offers a chance to hike with not one but ten waterfalls in just a few hours!
Live it Up at These Luxury RV Vacation Destinations
The RV destinations below aren't your typical RV parks. With lavish amenities and high-class social events, they're great if you're looking to splurge and treat yourself to some luxury.
Desert Shores Luxury Motorcoach RV Resort in Indio, California: Located in the heart of the famous Palm Springs desert, this resort has RV sites with private villas, private pools, lush landscaping, tennis courts, a fitness center, and other fancy amenities. Here, you can experience the lifestyle of the rich and famous.
Hearthside Grove Luxury Motorcoach Resort in Petoskey, Michigan: This luxury resort has a private social club, a movie theater, pickleball court, pool, and lots of social events to keep you entertained. You can even take cooking classes with local chefs!
Keep in mind, some motorcoach resorts like these are exclusive and restrict the type of RV that can stay to motorhomes of certain lengths, classes, ages, or conditions. If you're looking for something a little more accessible and affordable, our RV park welcomes everyone and has resort-style amenities like a pool pavilion, hot tub, main lodge, game room, stocked fishing ponds, and more!
Don't Miss These Year-Round RV Travel Destinations
We may be biased, but we think Oregon is the number one state for year-round RV travel and camping. There are just so many great RV destinations and natural wonders to choose from here.
No matter the season, Silver Spur RV Park & Resort is a great place to visit year-round. We're open 365 days a year and offer amenities and entertainment to ensure your stay is comfortable and enjoyable, rain or shine. To learn more, check out our blog post with fun and exciting things to do in every season.
Best RV Destinations: Wrapping Up
As you can see, the United States is full of stunning and unique RV destinations, and we hope you have the chance to visit them all.
Be sure to add Silver Falls State Park to your list of must-see RV destinations if you haven't already! And make Silver Spur RV Park & Resort your home base while you explore the wonders of the Willamette Valley.
Happy travels – we hope to host you soon!