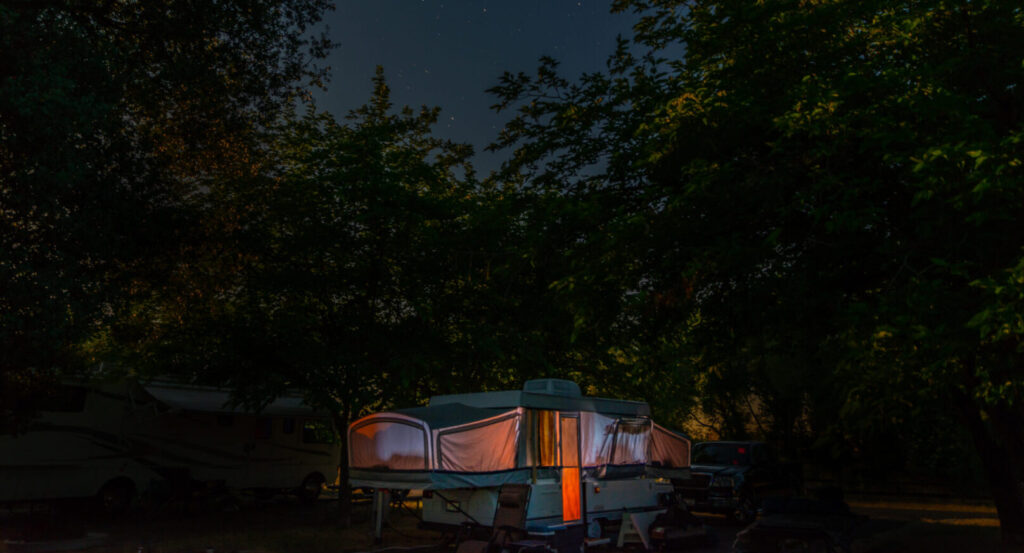 Pop Up Camper Hacks to Maximize Comfort
Traveling in a pop up camper has become wildly popular in recent years, and for good reason! Affordable, compact, and convenient, pop-up campers present an easy and accessible way to travel and experience the great outdoors.
However, because they tend to be smaller than other types of campers, planning and preparation are absolutely essential! To help, we put together some nifty pop-up camper hacks and accessories as well as what to keep in mind when looking for campsites or RV space rental options.
Traveling with a Pop Up Camper
There is certainly a lot to love about pop-up campers. They are more lightweight and compact than regular campers, making them easier to store and transport. You can tow a pop-up camper safely with a smaller towing vehicle- some of the lightest pop-up campers can even be towed by sedans! Pop-up campers also tend to be more affordable than other types of campers or travel trailers, making them an attractive option for many families, couples, and solo travelers.
At the same time, traveling with a pop-up camper presents some unique challenges. And it's important to be aware of the downsides so that you can plan accordingly and makes things easier on yourself. Most notably, space is quite limited, which makes careful packing and organization even more important than other types of travel. Amenities can also be limited, so you might need to get creative with food prep and other everyday tasks. In the sections below, we'll share pop-up camper hacks, tips, and tricks to help you make the most of the space you have available.
Pop Up Camper Hacks
With a pop-up camper, a little extra planning and creativity go a very long way. Here are a few of our favorite pop-up camper hacks to help you get more out of your setup:
Consider investing in additional storage. Pop-up camper storage is typically limited to a few cabinets and possibly some under-bench or under-bed storage inside, plus a few external storage compartments. So you will definitely want to pack light and keep things as organized as possible. For additional storage space, consider mounting storage on the rear of the camper or adding a rooftop storage box to the top of your vehicle.
Cook outside and prep meals in advance. Most pop-up campers come with small, basic kitchenettes. Food storage, appliances, and countertop space will likely be limited. One easy solution is to do as much of your cooking as possible al fresco in the great outdoors. If your campsite has shared grills or fire pits, use them! Or set up an outdoor kitchen of your own with a pop-tent, folding table, camping stove, cooler, etc. Prepping meals in advance is another good way to make meals on the road more convenient. Another option is to stay at RV parks in more central locations so that you can order delivery or head into a nearby town for a few meals.
Choose your pop-up camper destinations carefully. With limited indoor space at your disposal, choosing your travel destinations carefully can make all the difference! Plan your trips with the weather in mind, so that you can spend more time comfortably outdoors. Or look for RV parks with shared spaces and amenities that you can enjoy year-round. For example, here at Silver Spur RV Park & Resort, we have a main lodge, game room, hot tub, and group gathering sites to help keep you comfortable and entertained, no matter the weather. 
Look up park facilities and amenities in advance. Most pop-up campers don't come with a bathroom or shower, so it's a good idea to plan ahead and stay at RV parks or campsites with nice restrooms and hot showers. If you're staying in more remote or primitive campsites, you can create a makeshift shower or pack a portable solar shower instead.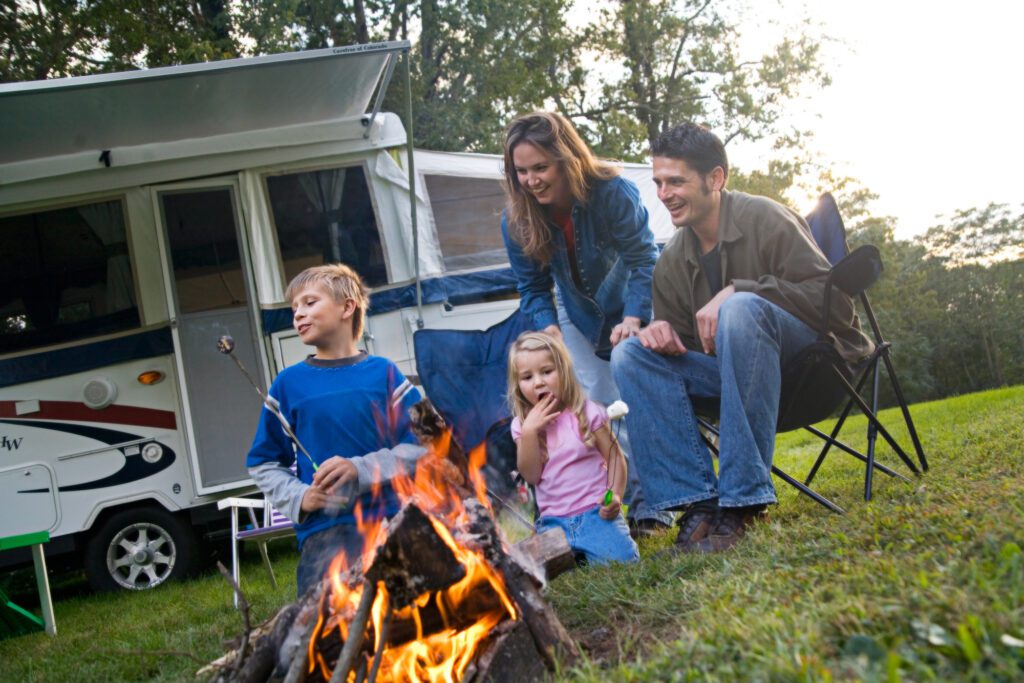 Pop Up Camper Accessories: Our Top Picks
Investing in a few high-quality accessories will make a big difference in your comfort and convenience while traveling with a pop-up camper. Below are a few of our top picks:
Portable AC and/or heater: Pop-up campers are typically less insulated than regular campers, so check the forecast and consider packing a portable air conditioner or heater to help regulate the indoor temperature.
Portable refrigerator: Instead of a standard cooler, consider investing in a portable refrigerator to keep your food fresh. That way, you won't have to worry about constantly stocking up on ice.
Clamshell tent: A clamshell tent or pop-up shelter is an easy way to create a comfortable indoor/outdoor hang-out area and extend your living space. A clam tent will protect you from the elements (hot sun, mosquitos, etc.) and offer a bit more privacy compared to more open-air pop tents. You can furnish the interior of the clam tent with an outdoor rug, some battery-powered string lights, and a few comfortable yet compact camping chairs.
Portable camping toilet: If you're staying in more remote campsites that don't have restroom facilities, you'll need a plan B! For privacy, you can set up a portable toilet in a pop-up pod.
Rollable camp table: Portable, roll-up camping tables made of aluminum are very compact, lightweight, and easy to set up, yet still fairly sturdy.
Off-grid accessories: If you plan to go off-the-grid with your pop-up camper, you may want to outfit your rig with additional accessories like solar panels, battery banks, and water tanks.
Additional Considerations for a Pop Up Truck Camper
There are many different types of pop-up campers out there, including tent trailers, high wall campers, a-frames, teardrop campers, and truck bed campers. Pop-up campers that sit on a truck bed are easy to drive, as you don't have to worry about towing anything behind your vehicle. They are an aerodynamic and fuel-efficient camper option. However, storage can be even more limited compared to other types of pop-up campers because the truck bed space is occupied by the camper. You'll probably need some extra accessories like tie-downs, turnbuckles, and truck bed camper mats to keep your pop-up truck camper securely in its place.
Pop Up Camper Vacations in Oregon
If you're looking for the perfect place to travel with your pop-up camper, look no further than Silver Spur RV Park & Resort here in Silverton, Oregon! We have full-hookup sites, clean facilities, and resort-like amenities to make your stay as comfortable as possible no matter the season. Plus, we're conveniently located in the charming town of Silverton off of I-5, where you can find great restaurants, shops, and natural wonders to make your vacation action-packed and memorable.