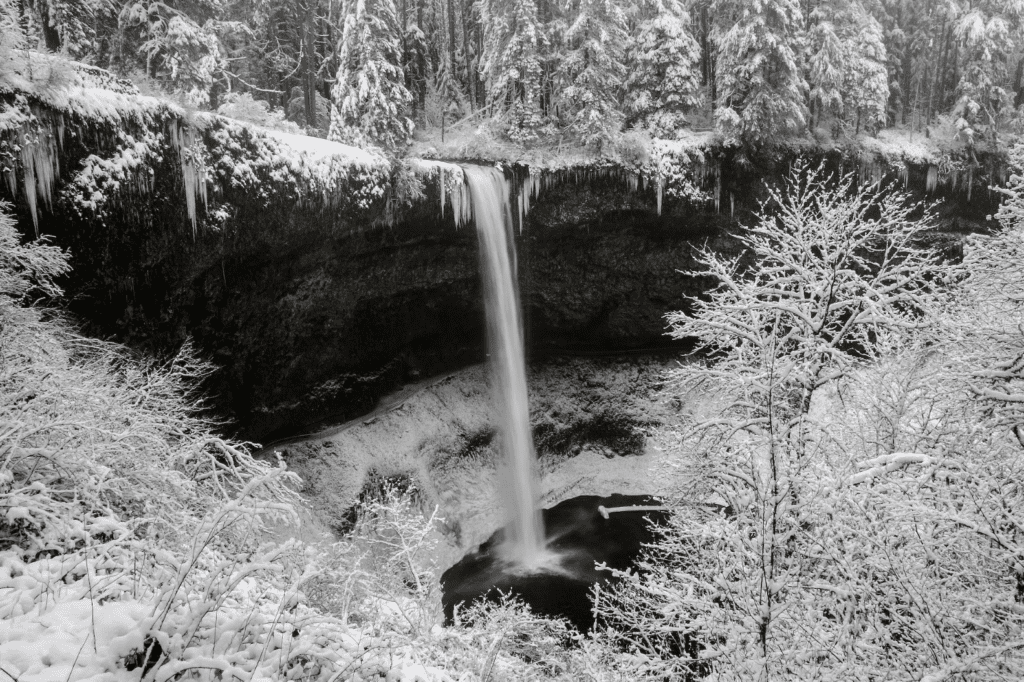 Exploring Oregon in the Winter
You may have heard that summer is the best time to visit Oregon.
Sure, the weather is ideal and it's easy to enjoy the great outdoors during those sunny summer months.
But we'll let you in on a little secret… Oregon is just as enjoyable, if not more so, during the winter. The most popular spots are far less busy, the scenery is especially lush, and the cities are alive with festivities. Us Oregonians don't let a bit of rain stop us from enjoying all that Oregon has to offer in the winter, and you shouldn't either!
Adventuring in Oregon during the winter season just takes a bit more planning and preparation. Fortunately, we're here to point you in the right direction!
Introduction to Oregon in the Winter
Winter temperatures in the Portland area are quite temperate compared to many other places in the United States, with daytime highs typically ranging from the 50s to the low 40s. Lower temperatures and snowfall are fairly uncommon. That being said, you can quickly and easily get up to the mountains to experience winter weather if you're craving a snowy getaway!
Although it can be a bit rainy and grey in the wintertime, many people prefer to visit Oregon during the "off-season." Popular tourist destinations like the Oregon Coast, Multnomah Falls, and Silver Falls State Park are much less crowded during the winter months. If you aren't deterred by a little rain, you might just have a wide stretch of beach or a huge cascading waterfall all to yourself!
Oregonians love to get out there and get moving during the winter. We hike, bike, and head up to the mountains for skiing, snowboarding, snowshoeing, and tubing. During the holidays, we flock to cities like Portland, Hood River, Bend, and Silverton for festivals, events, and markets. For the adventurous traveler, there's never a dull moment!
Best Places to Visit During Winter in Oregon
There are so many great places to visit in Oregon during the winter
months! If you're looking to hit the slopes and immerse yourself in winter weather, Government Camp, Hood River, and Bend are great options. The historic Timberline Lodge on Mt. Hood is another special place to visit.
If you prefer to celebrate the season with holiday festivities and more temperate weather, make your way down to the charming and historic town of Silverton, Oregon. The Silverton Christmas Market runs from November 25th to January 1st and features a stunning display of more than one million lights, an authentic German Christmas Market, a snowless tubing hill, and so much more. It's a family-friendly event you won't want to miss!
The city of Portland is also a happening place to be during the winter, with countless festive events to choose from. Check out the Annual Tree Lighting Ceremony at Pioneer Square, the Holiday Ale Festival, ZooLights, Crafty Wonderland, and the Portland Winter Light Festival, just to name a few.
Cozy Winter Cabins in Oregon
Wherever your travels in Oregon take you this winter, a cozy cabin is a quintessential lodging option. Compared to hotels, cabins tend to be much more private, peaceful, and close to nature. Here in Oregon, you can find cabins of all shapes and sizes for rent– no matter your budget, there are plenty of great options to choose from!
If you're looking for a winter cabin rental in the Silverton area, Silver Spur RV Park & Resort has a cabin and a newly-renovated family bungalow available for rent. Our cabin and bungalow are conveniently located, affordable, and fully furnished. They are heated and feature access to fire pits, a hot tub, and our main lodge, so you'll be cozy and comfortable no matter the weather. To explore more cabins around Oregon, check out our complete guide to Oregon winter cabin rentals.
Winter Camping
Although Oregon's winter weather is more temperate than many other places in the United States, camping can be a bit unpredictable and uncomfortable due to heavy rainfall and the occasional snowfall. If you're feeling adventurous, one of the best ways to get outside during the winter season is to travel via RV or camper. You'll be much more cozy and comfortable compared to a tent– simply turn on the heat, take a hot shower, or cook up a warm meal when things get chilly!
Silver Spur RV Park & Resort in Silverton is the perfect spot for winter RV camping in Oregon. With a hot tub, cozy main lodge, game room, and firepits, you'll have plenty of activities and amenities to keep you entertained no matter the weather. If you don't have your own RV, simply rent one from Cruise America, where you can choose from a wide range of class C motorhomes and RVs. If you're not comfortable driving the RV in winter weather, they can even deliver it to us at Silver Spur RV Park & Resort and get it all set up for you… talk about convenience!
Oregon Winter Hikes
Winter is a wonderful time to hit some of the most popular hiking trails in Oregon, such as the Trail of Ten Falls at Silver Falls State Park. During the winter months this usually crowded trail is extremely peaceful, with far fewer tourists. You can even get a discount on the Oregon State Parks parking permit during the winter. What's more, the heavy rainfall leading up to the winter seasons means that the waterfalls will be even more impressive and powerful than usual. The area rarely sees heavy snowfall, so you won't need to worry about snowshoes or cross-country skis. The trails can get icy though, so wear hiking boots with good tread, pack warm layers, and proceed with caution. The winter lighting and frozen landscape make for some majestic seasonal scenery, so be sure to pack your camera too!
Silverton Oregon in the Winter
Silver Spur RV Park & Resort in Silverton is the perfect place to immerse yourself in the magic of Oregon in the winter. Stay in the comfort of your very own RV or rent our cozy cabin. Spend your days at the local Christmas market or hike around the magnificent Silver Falls State Park. During the evening, head into the charming downtown area for a romantic creekside dinner, relax in our hot tub, or read a book in front of our roaring fireplace in the main lodge.
Whether you're traveling on your own or with the whole family, we'll help you create special memories this holiday season. Reserve your stay now and come experience it all for yourself!