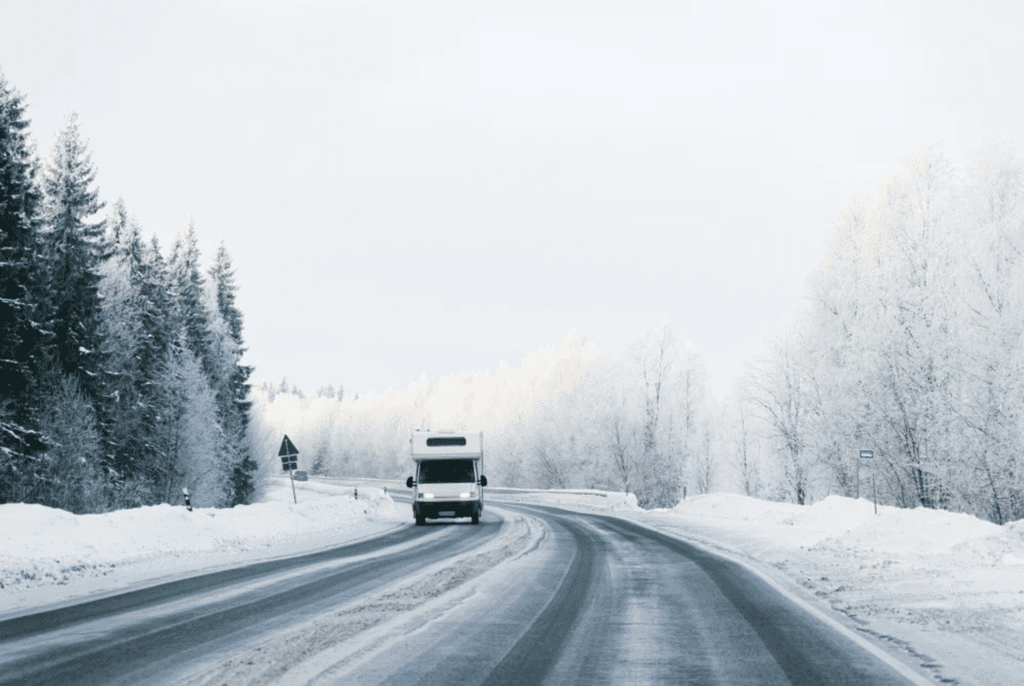 Did you know that camping can help prevent stress and depression, and improve your overall mental health? In the cold, dark, winter months, when seasonal depression is on the rise, it's more important than ever to get outside and experience nature. With an RV or camper, you can more comfortably and conveniently travel and camp year-round, even in the coldest winter climates. You'll have an array of winter scenery, exciting winter activities, and festive holiday events to choose from, plus a place to return to where you can be warm and protected from the elements. Many RV parks and resorts around the country also offer extra amenities like hot tubs or cozy community spaces to help you enjoy your winter camping experience to the fullest.
The primary reason people purchase RVs is to allow for easier camping, no matter the weather. However, though staying in an RV in winter will certainly be more comfortable and convenient than a tent, there are some additional steps to take compared to warmer months. If you are going to be spending time in freezing or below-freezing temperatures, you'll need to make sure that both you and your RV are prepared for more extreme conditions. Keep in mind, all this preparation and work can definitely be avoided by choosing a more mild, less extreme climate (like Silverton, Oregon!) for your winter RV trip.
How to Winterize an RV
To "winterize" your RV means to prepare it to withstand harsh winter conditions, from extreme weather to below-freezing temperatures. First, you'll need to determine where you are planning to camp and for how long, as more preparation will be needed for longer-term stays. Don't assume the campground will be open, as not all are open year-round! Be sure to check the weather before you go and plan accordingly. If there's a chance that temperatures could drop to 32 degrees or lower, you'll need to winterize your RV beforehand. Keep in mind, your RV manual should have specific and detailed instructions for winterization, so be sure to read those carefully as well. Also, when in doubt, consider hiring a professional service to winterize your RV.
Below are a few basic tips to get your RV prepared for cold weather:
Fill your propane tank before you go.
Keep the RV heated as much as possible to avoid plumbing problems and pipes from freezing (more on this below).
Weather-seal your doors, windows, vents, and skylights – the primary areas of heat loss.
Turn off your water pipe when it is not in use.
Check the campground amenities to make sure they have full hookups. If you are going to be at a site without electric hookups, you may want to invest in a generator and/or solar panels.
If you have an electric hook-up, use space heaters, but use them carefully!
Ensure you have a freshwater supply.
If you'll be in the snow, you may need to skirt your RV, which helps keep the heat in.
It may seem obvious, but be sure to pack plenty of blankets and warm clothes!
Preparing Your Gray Water Tank and Black Water Tank
The number one problem RV owners face in freezing temperatures is plumbing system damage. Any water left in the lines can freeze, expand and break lines and fittings. Below are the key steps and tips to prepare you and your RV for winter and avoid costly plumbing mistakes.
Before you leave for your winter camping trip, be sure to empty your black and grey water tanks and add a quart of antifreeze (the kind specifically made for RVs) to each tank, which will prevent the dump valves from freezing. Additionally, you should insulate the pipes or lines draining into the tanks with foam pipe insulation. Consider where else you may need antifreeze, such as your windshield wiper fluid or your diesel tank. Remember to read the instructions carefully!
If you will be camping in freezing temperatures for an extended period of time, you can consider adding electric pipe and taking heaters, though these are more expensive and you will need an electric hook-up or generator.
A frozen hose will likely break or split, so be sure to insulate the sewer hose. Alternatively, only use the hose to empty your tank and then store it in a warm place immediately when it is not in use.
Finally, avoid emptying your grey and black water tanks until you're ready to head home to prevent ice from forming.
Again, if all of this preparation and work seems overwhelming, why not just choose a mild climate for your winter RV trip? Well-known for its plethora of camping options and easy winters, Oregon is a great place to head for the winter months. The Oregon Coast and Silver Spur in Silverton are two standout destinations to escape harsh winter weather.
RV Winterizing Kit Options
If you are set on a cold winter RV trip, make sure you are well prepared. You may need the following supplies to winterize your RV:
Non-toxic antifreeze specifically made for RVs. The amount of antifreeze you will need depends on the layout and length of your plumbing lines.
A water heater bypass kit, if one is not already installed on your RV's water heater.
A tank cleaning wand to clean and flush the black water tank, if your RV does not have a built-in tank flushing system.
A water pump converter kit or tubing to connect to the inlet side of the water pump.
Basic hand tools to remove and install drain plugs.
These supplies can be found online or at an RV part store. There are also kits available for purchase so that you can get everything you'll need in one package.
Get That RV Ready for Winter!
There is a lot to consider and do to prepare your RV this winter. For easier and more comfortable winter camping with all the hookups, you'll need, consider staying with us at Silver Spur RV Park & Resort, open year-round. As mentioned above, we enjoy mild winters in Silverton, Oregon compared to other parts of the country, with average temperatures falling between the mid-fifties and mid-thirties, allowing you plenty of opportunities to get outside and keep exploring. There are also many fun holiday festivities and events in nearby Silverton to enjoy with the whole family. At our resort, we even have a cozy lodge with a big fireplace, a game room, and a hot tub to keep you warm and comfortable when you come back after a long day of adventures. Reserve your stay today – we can't wait to host you this winter!