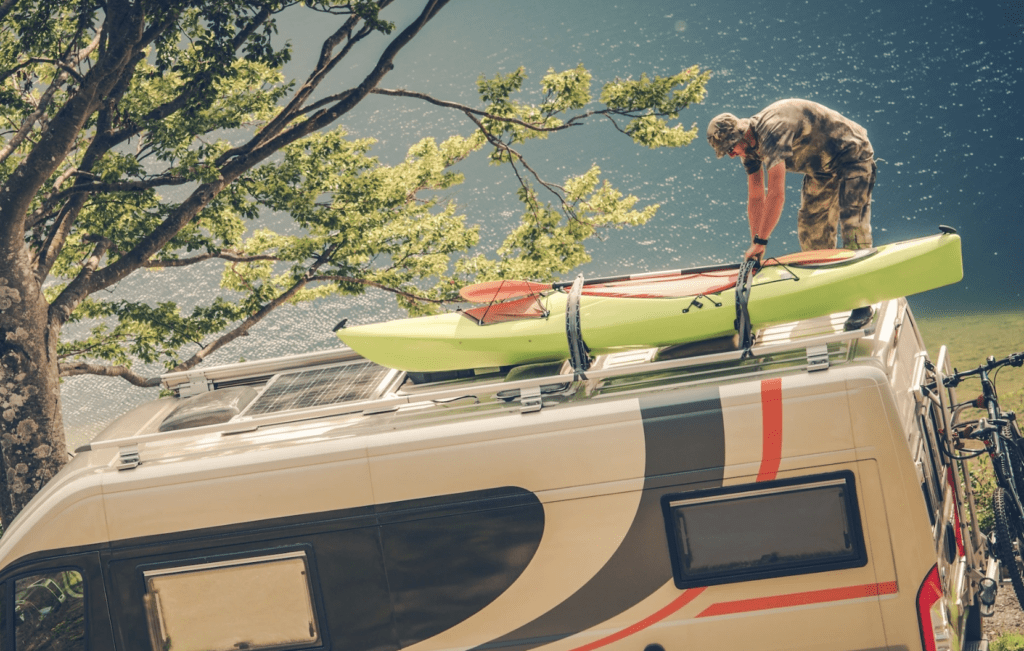 How to Build a Kayak Rack for an RV
Kayaking is quickly growing in popularity. In fact, the number of kayakers in the U.S. shot up from 16.62 to 18.12 million in just one year!
If you own an RV, adding a kayak to your setup will encourage you to get active and provide you with another way to explore while you're on the road. The only issue is that kayaks can be bulky and cumbersome to transport from place to place. Fortunately, though, there are many different types of kayak racks for RVs available that make bringing your yaks along easy and convenient! Let's explore your options…
How to Build a Kayak Rack for an RV
If you're handy and enjoy DIY projects, building your own custom RV kayak rack is a great option. You can save money and create a custom rack that meets your specific needs.
There are many different ways to go about a DIY kayak rack. PVC piping is a popular material for many different types of DIY projects, as it's strong, easy to cut, and comes in many different sizes and fittings. However, this type of material is much easier to mount on the roof of your RV compared to the hitch.
If you aren't totally confident in your DIY skills or prefer to store your kayaks on the rear of your RV, you can modify a hitch mount cargo carrier instead of attempting to construct a kayak rack completely from scratch. In order to avoid welding, most people use fold-down or hitch-mounted cargo trays when they go this route.
RV Kayak Rack Options and Types
Before you decide to build a kayak rack for an RV on your own, it's a good idea to take stock of the different types of kayak racks available for purchase. Carefully compare the cost of a new or used rack with how much time, skills, and materials the DIY route would require.
Here are some of the different RV kayak racks available:
Roof Kayak Rack: There's plenty of space up on the roof for storage, but this option can make your kayaks more difficult to load and unload and may require more than one set of hands. This might not be the best option if you want to access yours easily and regularly. Adding extra height to an already tall RV can also increase your clearance. There are several different types of roof racks available, including ladder racks and fold-down racks.
Hitch-Mount Kayak Rack or Vertical Kayak Rack: Hitch-mounted racks allow you to store your kayaks vertically on the rear of your RV. This placement avoids adding extra height to your RV. Plus, your kayaks will be easier to load and unload compared to roof rack storage.
Kayak Trailer: If you plan to transport a bunch of kayaks, a larger kayak trailer might be your best bet. They are convenient and accessible, but you'll need a tow hook and it can be challenging to maneuver an RV with a trailer, especially if your RV is long to begin with.
DIY RV Kayak Rack: DIY racks like the ones described in the section above can be more affordable, but they require significant time and specific skills to assemble correctly. If they aren't installed securely, they can be a safety hazard to yourself and others on the road, so you'll need to take your time and do your research if you go for a DIY rack.
Used Kayak Rack: Rather than buy new or build your own rack, you can also look online for used kayak racks. This is a great option if you're looking to cut down on costs but aren't confident in your DIY skills.
Kayak Rack for Camper Considerations
When comparing and contrasting different kayak rack options, consider the following factors:
Kayak Type: You need to ensure the kayak rack you buy is compatible with the types of kayaks you intend to transport. You could also choose to buy an inflatable or foldable kayak that could eliminate the need for a kayak rack.
Capacity: Some kayak racks can only hold one kayak, while others are designed to carry multiple kayaks safely. For example, stacker-style kayak racks can accommodate up to four kayaks… enough for the whole family!
Weight: Whenever you add something to your RV, it's important to think about the extra weight you'll have to carry. Every recreational vehicle is rated to carry a certain amount of weight, and that weight limit is what keeps the vehicle safe while traveling. Extra weight can also reduce your fuel efficiency.
Size & Placement: The size and placement of your RV rack are important to consider for aerodynamics, visibility, and safety while driving.
Security: Some RV racks offer security measures, while others do not. If you have expensive kayaks that you want to keep secure, security will be an important factor to consider.
Materials: Different materials will affect the weight and durability of your kayak rack. For example, aluminum is much more lightweight than other types of metals and equally durable, so it's often the preferred choice for kayak trailers and racks.
Accessories: Some types of kayak racks require accessories such as tie-downs, while others come fully equipped.
How Much Does a Kayak Rack for RV Cost?
Another major consideration is cost. Kayak racks can cost anywhere from $25 to $650 or more, depending on the type of kayak rack you buy, whether it's new or used, and the quality. Those with lift-assist technology for convenient loading and unloading tend to cost more.
A Recap of How to Build a Kayak Rack for an RV
Once you have your RV kayak rack installed and ready to use, you can focus on the fun part: making RV park reservations close to lakes and rivers where you can put those kayaks to good use!
Silver Spur RV Park & Resort in Silverton, Oregon is close to many great kayaking spots, such as the Silverton Reservoir, Mission Lake, the Santiam River, Lower Silver Creek, and the Willamette River, just to name a few. There are plenty of options for beginners and advanced kayakers alike.
Thanks for reading and we hope to host you soon!