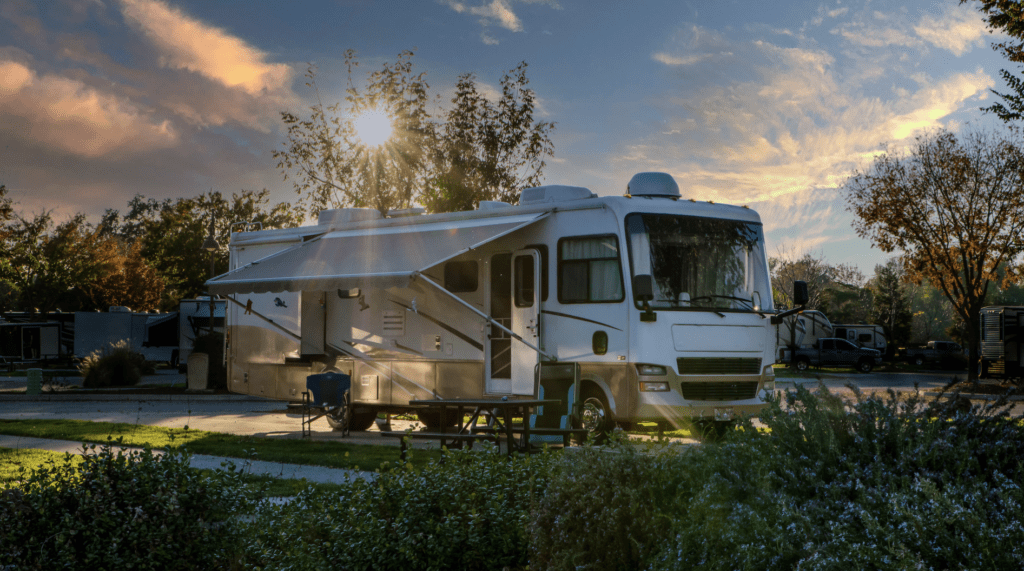 Full Time RV Living: What to Expect
You may remember our article outlining how to live in an RV full time, but what's the lifestyle really like? This article will help you imagine what it's like to live in an RV year-round so that you can determine if it's a good fit for you and your family… Let's get started!
The Growing Popularity of Full Time RV Living
RV ownership has surged in the last decade, with 11 million American households now owning an RV. At least 1.5% of these RVers have chosen to make their RV their full-time home on wheels.
Many factors have contributed to the rise in full-time RV living. The #VanLife movement on social media has exploded in recent years, convincing more and more young people to embrace a nomadic lifestyle. The economic recession has also contributed to the rise. Many people see full-timing as a solution to economic precariousness, providing them with an opportunity to lower their monthly costs and live mortgage-free. No matter the motivation, most full-timers agree that life on the road equates to freedom– whether that be financial freedom or the freedom to roam!
Benefits of Living in an RV Full Time
Here are some of the many lifestyle benefits that come with making your RV your permanent home. As a full-time RVer, you can:
Save money. Buying an RV costs pennies on the dollar compared to traditional avenues to homeownership. In addition to upfront costs, you can cut down on the ongoing cost of many monthly utilities– or even eliminate them altogether! For example, here at Silver Spur RV Park & Resort, our discounted monthly rate comes with cable, water, garbage, sewer, and Wi-Fi, plus access to many resort-like amenities. Of course, there are other costs to consider, such as the price of gas and the cost of parking. Generally speaking, the less frequently you move, the more money you can save as a full-time RVer.
Save time on maintenance and upkeep. Without a yard or house to maintain, you'll have more downtime to make the most of life on the road. Sure, you should familiarize yourself with RV maintenance, but you won't have any gutters to clean, lawns to mow, etc.
Travel more frequently, affordably, and conveniently– and at the drop of a hat! You'll already be ready for life on the road, so there's no need to pack your bags, put things in storage, book flights, etc. Just pick a destination and fire up the RV! Studies show that traveling and exposing yourself to new experiences and cultures offers many mental health benefits, including lower stress, better productivity, and increased creativity.
Connect with your loved ones. Smaller spaces bring people closer together, physically and otherwise. Living in an RV with your partner or family members will encourage you to spend more quality time together, enjoying unique experiences and creating special memories. It also makes visiting friends and family in different parts of the country easier and more affordable.
Meet like-minded people. Some people worry that living in an RV full-time could get lonely. If isolation is what you're after, you can certainly find it! But if you choose to stay at RV parks and resorts like Silver Spur, you'll be pleasantly surprised to find a welcoming and vibrant community of fellow RV enthusiasts. Many RV parks and resorts have community gathering spaces and events to help residents maintain a fun, active social life while on the road.
Spend more time outdoors. RVs make the great outdoors more accessible, allowing you to connect with nature easily and comfortably. With limited indoor space, you'll be motivated to make use of any outdoor space at your disposal. In a traditional home or apartment, you might have to eat all your meals inside– but living in an RV, you can easily dine al fresco with a different view every night of the week. And you'll be surprised by what a difference this can make for your mental health!
Live a more minimalist, sustainable lifestyle. Downsizing to a more simple, stripped-back way of life is good for your wallet, your mental health, and the environment.
Have access to more amenities and activities. In a traditional home or apartment, you probably won't have a swimming pool, hot tub, game room, stocked fishing ponds, walking paths, and community gathering areas right outside your door. But you can find all of these amenities and more here at Silver Spur!
Take advantage of ultimate flexibility. Living in an RV, you can change your scenery and circumstances quickly and frequently. Sick of the rain? Annoyed by your neighbors? Craving a drastically different lifestyle? A natural disaster on its way? You can pack up and hit the road in a few hours or less. What's more, moving into an RV is a relatively low-risk decision; RVs are in high demand and easy to resell if you ultimately decide that RV living isn't for you.
Important Considerations About Camper Living
If you're serious about full-timing, one of the most important considerations is what kind of RV or camper is best suited for your lifestyle. Your options include Class A RVs, fifth-wheelers, and conventional travel trailers, just to name a few. Taking time to create the perfect RV setup will make your life on the road more enjoyable and sustainable in the long run. While a large motorhome may offer more comforts of home, it will be more difficult and costly to drive and park. A tow vehicle also means you'll have an extra car handy for adventures and emergencies.
Consider how you plan to use your RV to help you prioritize amenities and add-ons. For example, if you plan to work remotely from your RV, you probably want to invest in high-speed internet and choose your destinations carefully to ensure you have cell service. Alternatively, if you plan to go off-grid, you'll need to prepare yourself and your rig for "dry camping."
RV Living With Kids
Full-time RV living with kids comes with unique challenges and rewards, but it's not uncommon. It's an alternative way of life that prioritizes the family and the great outdoors and provides endless opportunities for adventure and bonding. You'll definitely want to get creative and make the most of limited space– and it might be a good idea to invest in a larger RV with more storage space and (precious) doors. One creative way to expand your living space is to buy an RV screen room add-on.
With kids in tow, it's a good idea to slow down your pace a bit. Less frequent travel will help keep the chaos to a minimum– allowing the kids to develop a more consistent schedule and sense of community. Staying at RV parks with fun community spaces for the kids to enjoy will help them stay socialized. For example, here at Silver Spur, we have a game room, playground, pool, and stocked fishing ponds where children can make friends with other guests and residents.
Education is (obviously) another important consideration, but there are lots of remote learning opportunities and resources these days that make homeschooling your kids easier than ever before.
How to Find Full Time RV Living Locations
When choosing where to live in your RV, you'll want to consider your budget, state taxes, health insurance options, and more fun factors, like the climate, natural scenery, and outdoor activities available. You can find free camping on BLM land, rent a plot of land, join a tiny living community, or stay at RV parks and resorts. Paying nightly or weekly camping fees at RV parks and resorts can quickly start to add up. Fortunately though, some RV parks (like Silver Spur!) offer discounted rates for extended stays. When you're looking for a place to park, be sure to check RV park rates to see if they offer monthly discounts! And look closely at the list of utilities/amenities included.
Full Time RV Living in Silverton, Oregon
Silverton, Oregon is the perfect place to try out full-time RV living and see if it's the right fit for you. Centrally located in the heart of the Willamette Valley and under an hour away from Portland, it's the ideal home base for discovering the endless natural wonders and adventures that Oregon has to offer. Silver Spur RV Park & Resort in Silverton offers monthly discounts and all the amenities to make full-timing comfortable, affordable, and sustainable in the long run. Come try it out for yourself… and like so many of our guests and residents, you may never want to leave!