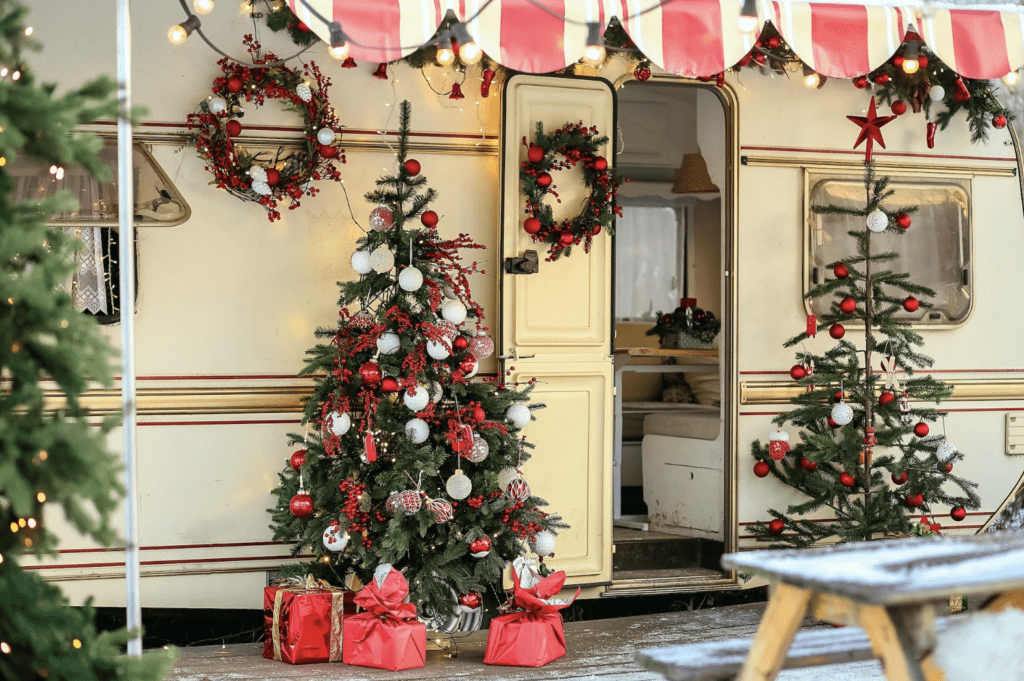 How to Celebrate Christmas in an RV
Although it might seem unconventional, there's a lot to love about celebrating Christmas in an RV or camper. It's an affordable and unique way to spend your Christmas vacation– not to mention extremely cozy! Whether you're a full-time RVer or are simply looking for an unforgettable way to spend the holidays, we've got plenty of ideas to help make your RV Christmas the most magical Christmas yet.
Why Celebrate Christmas in an RV?
There are so many great reasons to celebrate Christmas in an RV!
For one, it's a unique and unforgettable way to celebrate the holiday season. Depending on your preferences, you can escape the winter weather and spend Christmas in the sunshine or head to the mountains and embrace a quintessential Christmas vacation in the snow. With a bit of research, you can even find an RV park reservation close to a popular holiday festival or event. For example, just minutes from Silver Spur RV Park & Resort, you'll find the famous Silverton Christmas Market with a magical display of more than one million Christmas lights!
A recent survey found that the majority of American adults feel that Christmas has become over-commercialized in recent years. If you relate to this sentiment, celebrating Christmas in an RV is a great way to break free from all that commercialization and pressure associated with Christmas gifts. Sure, you may have to simplify or downsize some of your typical Christmas traditions, but it will help you focus on what truly matters to you and your family. In a smaller space, you'll have fewer distractions and spend more quality time with one another.
You can also save money by celebrating Christmas in an RV. It's a much cheaper way to vacation compared to flying somewhere over the holidays or renting a big vacation home. With limited space, you'll also have to simplify with fewer gifts, more minimal decorations, and more simple meals. Rather than buy more things you don't actually need, you can create memorable experiences and splurge on a few fun outings.
Creative RV Christmas Decorations
Decorating your RV for the holiday season is an exciting challenge. With less space to decorate, a little bit of creative Christmas decor goes a long way! Just because you have to downsize and simplify things a bit does not mean you have to be a Grinch or a Scrooge…
To get your creative ideas flowing, here are a few of our favorite ways to decorate an RV for Christmas:
Hang a wreath on the front of your RV and/or on your RV door
String a garland and some lights around the outside of your RV or along the edge of your awning
Decorate your RV windows with Christmas window clings or paper snowflakes
Display holiday cards on the fridge or create a DIY holiday card garland
Put out a festive rug inside and/or outside of your RV
Think vertically and hang some decorations from the ceiling
No fireplace? No problem! Turn your TV into a virtual fireplace by streaming a video of a crackling fire
Hang some stockings from the interior wall with easy-to-remove Command hooks
Add some small decorative pillows and extra cozy blankets to the couch and/or bed
Go all out with yard decorations
Make the most of the outdoor space you have available too. For example, if your RV space comes with a picnic table, you could put out a festive waterproof tablecloth and create a centerpiece of mason jar lanterns filled with battery-powered twinkly lights.
RV Christmas Tree Ideas & Alternatives
Depending on the size of your RV, you might not have enough floor space inside for a full-size Christmas tree, but that doesn't mean you have to completely forgo one! Maybe you can downsize the tree and fit a skinny one in a corner. Or go even smaller and place a 2-foot-or-so tree on top of your dinette. Instead of regular-sized ornaments, decorate your mini tree with mini ones!
Another RV Christmas tree option is a small potted live evergreen tree, which could be placed inside or outside of your RV. Or, if your RV space has bushes or trees surrounding it, why not decorate those and save some extra money?
RV Christmas Activities & Outings
Make this Christmas in your RV or camper an extra-special one with some of these festive outings and activities:
Gather around a roaring bonfire with some warm drinks and holiday treats
Go caroling around the RV park or local neighborhood
Get crafty and make your own Christmas decorations
Head into a nearby town for a local holiday festival or parade
Seek out some stunning scenery with a winter hike or snowshoeing adventure
Bake and decorate festive holiday treats or Christmas cookies for your RV neighbors
Instead of a traditional gingerbread house, make a gingerbread RV or camper
Have a cozy holiday movie marathon with hot cocoa and a big tin of popcorn
Dine out at restaurants in the area and learn about local food customs
Host a holiday party at your RV site or one of the group gathering sites and invite your fellow campers
If you're religious, find a local church service to attend
Decorate the group gathering spaces at the RV park to spread some holiday cheer
Ask about the best places to enjoy holiday lights in the area and go for a festive walk or drive
Volunteer at a local food bank or soup kitchen
Replace traditional gift-giving with a white elephant gift exchange or Secret Santa so that your RV isn't full to the brim with gifts
Plan a unique experience for the kids like a scavenger hunt around the RV park instead of a gift
If you do want to give Christmas gifts, keep them to small stocking stuffers rather than large, bulky gifts
Think outside the box for your Christmas meals– make some dishes ahead of time and cook some meals on the grill or over the open fire. When in doubt, go easy on yourself and order Chinese takeout!
Celebrate Christmas in an RV at Silver Spur!
All in all, if you keep an open mind and focus on creating memorable experiences, you can't go wrong celebrating Christmas in an RV!
If you're looking for the perfect RV Christmas destination, we welcome you to spend your holidays with us here at Silver Spur RV Park & Resort in Silverton, Oregon. Relax in our hot tub, read a book by a roaring fire in the main lodge, play games in our game room, or host friends at one of our group gathering areas. Visit nearby Silver Falls for some majestic winter scenery without the crowds. Or head to the Silverton Christmas Market for some classic holiday festivities.
Wherever your RV travels take you this year, all of us at Silver Spur wish you a very Merry Christmas and a Happy New Year!