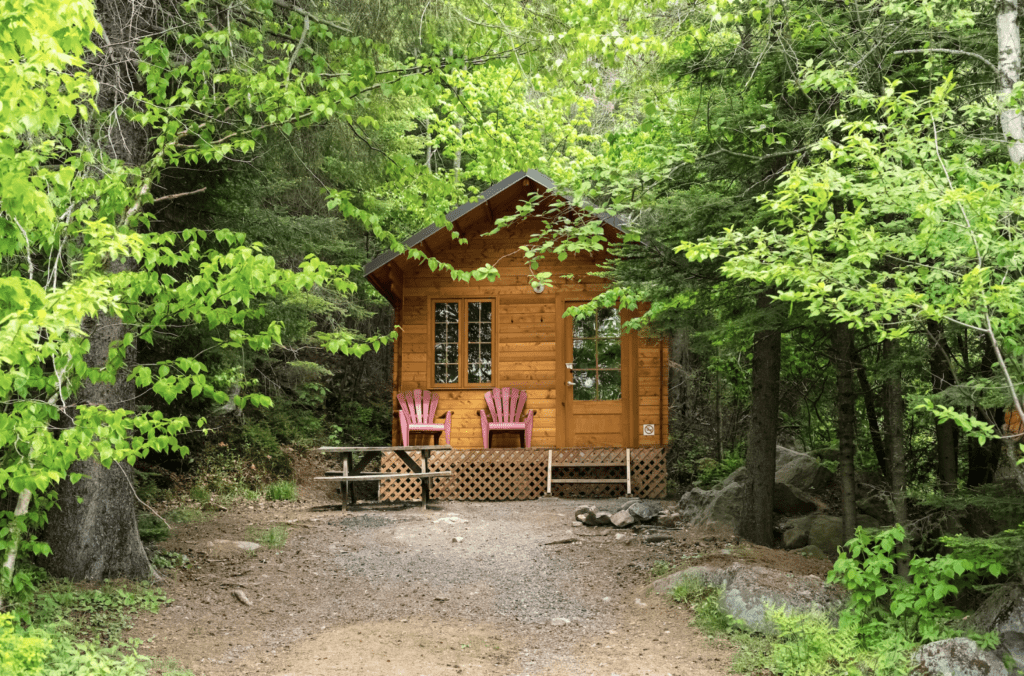 Summer Cabin Rentals in Oregon
If you're planning a summer cabin getaway in Oregon, you are in for a treat! Summer is the perfect time to rent a cabin in Oregon– the days are sunny and warm but not too hot or humid, so you can spend endless hours enjoying our state's many natural wonders.
With an Oregon cabin rental, you can immerse yourself in nature, get active in countless different ways, cool off in a pristine lake or waterfall, sample abundant local produce, and experience the undeniable magic of summertime in Oregon!
Getting Started with Cabin Rentals in Oregon
The hardest part about planning an Oregon cabin getaway is probably narrowing down your search; there are just so many popular destinations and unique cabins to choose from- especially in the summer. To help point you in the right direction, we'll highlight a few of our favorite locations in Oregon for summer cabin rentals in the sections below. Let's get exploring!
5 Best Locations for a Vacation Cabin in Oregon
1. Bend, Oregon
Bend is a quintessential summer destination in Oregon with many cabins available for rent. There are endless biking and hiking trails and more than 22 breweries in town where you can cool off after hitting the trails. On a warm summer day, you can also go floating down the Deschutes River that passes right through the center of town!
2. The Oregon Coast
There's nothing quite like the Oregon Coast in the summertime. Otherwise sleepy towns like Manzanita and Cannon Beach transform into a bustle of activity- and the beautiful, wide beaches fill up with families (and lots of dogs!) enjoying the warmer weather. There are also some great hiking trails along the coast, such as the Neahkahnie Mountain loop, where you take in breathtaking views of the Pacific Ocean.
3. Hood River, Oregon
Hood River is one of the most popular summer destinations in the Columbia Gorge region. It's also a hub for outdoor recreation, including mountain biking, kite surfing, kiteboarding, kayaking, paddle boarding, hiking, and much more. There's a nice waterfront park in town where you can go for a stroll, enjoy a picnic, or grab a local beer and watch the watersports.
4. Government Camp, Oregon
Although this destination on Mt. Hood is more popular during the wintertime, it's equally beautiful during the summer. Plus, cabin rentals are much more affordable during the off-season. The tiny town of Government Camp is filled with classic cabins for rent, including many historic log cabins and A-frame-style cabins. There are many wonderful hiking trails and lakes to explore in the area, and nearby Ski Bowl transforms into an adventure park during the summer season.
5. Silverton, Oregon
Silver Falls State Park in Silverton, Oregon is often referred to as "The Crown Jewel of Oregon," and for good reason! Silver Falls State Park is home to ten majestic waterfalls and endless trails for hiking, biking, trail running, and horseback riding. What's more, the charming town of Silverton is located in the heart of the world-renowned Willamette Valley, so you can stop by some wineries or farmer's markets to sample fresh, local produce after a day of adventures. If you're considering a trip to Silverton, we have a cozy cabin for rent right here at Silver Spur!
Types of Cabin Rentals in Oregon
Oregon is home to a wide variety of cabin rentals, from classic log cabins and A-frames to artsy tiny homes and treehouses. Whatever type of cabin you're looking to rent, you can certainly find it here!
At the many state parks and campgrounds in Oregon, you'll find many rustic cabins and yurts for rent. These cabins tend to have more limited amenities but offer the chance to stay close to some pretty incredible sights. Private resorts and campgrounds in Oregon also have cabins for rent, and these tend to come with more on-site amenities and activities.
What to Look for in Oregon Getaway Cabins
If you're planning a summer cabin getaway, chances are you're looking to spend some time outdoors. Summertime in Oregon is perfect for outdoor adventures of all kinds, so the location of the cabin and nearby activities are probably more important than what the cabin is like on the inside. Pay close attention to the location of the cabin and its proximity to local attractions and activities while you conduct your search.
You'll also want to look at the list of amenities offered. Some cabin rentals are located within camping or RV resorts and come with a wide range of resort-like amenities and activities right outside your door. Here at Silver Spur, for example, we have a swimming pool, hot tub, walking paths, stocked fishing ponds, outdoor gathering sites, fire pits, a game room, a playground, and a cozy lodge to help keep you and the family entertained during your stay.
Be sure to check on what's included when you're packing for your trip. Some Oregon cabin rentals are fully furnished like a home would be, while others offer an experience more like camping and ask that you bring your own bedding, etc.
Summer cabin rentals are much different than winter cabin rentals. If you're looking for a winter cabin getaway, check out our guide to Oregon winter cabin rentals for seasonal info and tips!
How to Find the Perfect Summer Getaway House
In terms of where to look for cabin rentals, there are many options to choose from. You can use the Oregon State Parks website to search for cabins located inside the parks or search online for private resorts and campgrounds with cabins for rent (like our very own Silver Spur). Another option is to check home-sharing sites like Airbnb, VBRO, or Vacasa. If you go this route, we recommend applying filters to help refine your search and reading the reviews carefully. Homesharing can be a hit-or-miss experience, so do your due diligence!
No matter where you conduct your search, be sure to check out recent reviews to hear what guests have to say about their experience. And keep in mind: summer in Oregon is the busiest season for vacation rentals, so be sure to book your cabin rental as far in advance as possible!
Cabin Rentals in Oregon near the Willamette Valley
Silver Spur RV Park & Resort is located in the quaint town of Silverton, Oregon in the heart of the Willamette Valley, just a quick drive from the stunning waterfalls of Silver Falls State Park. If you're looking for a summer getaway that's full of outdoor adventures, our cabin is the perfect home base! In addition to a cabin, we also have a bungalow, full-hookup RV sites, and teepees for rent. Just be sure to make your reservations for summer soon, as it's our busiest time of year!