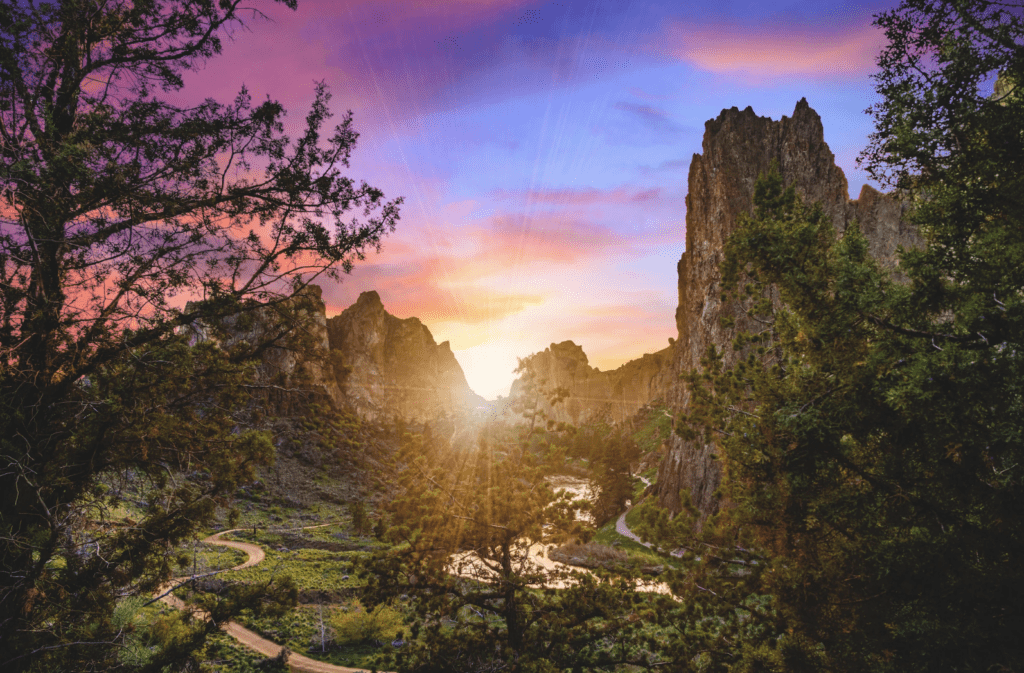 Our Favorite Bend Oregon RV Parks & More!
Bend, Oregon truly has something for everyone. With the highest average number of sunny days in the state, it's a popular RV camping destination throughout the year. Surrounded by mountains, rivers, lakes, biking, and hiking trails, outdoor enthusiasts will have access to plenty of exciting activities to keep them busy while in Bend. And for those who prefer to sit back and relax, Bend is also home to a plethora of craft breweries, live music, and a vibrant culinary scene.
But where should you stay while visiting Bend? In this article, we'll highlight a few of our favorite RV parks and resorts in the area as well as 10 activities and sights you won't want to miss.
An Introduction to Bend Oregon RV Parks
Bend is one of our favorite RV destinations in all of Oregon (second only to Silverton!), with a wide range of RV parks and resorts to choose from and countless fun activities to enjoy in the area. You can choose to stay at an RV site in a state park right in the heart of nature or a luxury RV resort with amenities for the whole family to enjoy. Whatever your preferred style of RV camping, you'll find plenty of great options in Bend.
Top 5 RV Parks Near Bend Oregon
There is an abundance of RV camping to discover in Bend and Central Oregon. To help narrow down your search, here are a few of our favorite RV-friendly spots in the area:
1. The Camp: Situated in the heart of Bend, this boutique RV park has so much character and charm. You can either book one of their restored vintage trailers or park your own at one of their RV pads. Centrally located just minutes from downtown Bend and Old Mill, you can still catch stunning views of Mount Bachelor and the Three Sisters right from your RV here!
2. Crown Villa RV Resort: This RV resort offers spacious RV sites with full hook-ups and many extra amenities and activities to keep you entertained during your stay. After a day of adventures in Bend, you can kick back in the clubhouse, soak in the hot tub, or play some pickleball with friends, just to name a few ideas.
3. Tumalo State Park: This State Park has 23 full-hookup RV sites plus many campsites and yurts for rent. It's more of a rustic camping experience compared to a privately owned RV resort, but the location is hard to beat. The sites are situated on the banks of the beautiful Deschutes River and the Deschutes River Trail and Tumalo Falls are easily accessible.
4. Lava Lake Resort: Lava Lake is a gorgeous lake 15 miles outside of Bend that was formed as a result of lava flows creating a dam along its east shoreline. It's a popular lake for fishing and other water activities. Lava Lake Resort and Lava Lake Campground both offer RV camping with full hookup sites.
5. Bend/Sisters Garden RV Resort: Located between Bend and Sisters, this private RV resort has an impressive list of amenities, including luxury bathhouses, a heated pool and hot tub, mini golf, and 24/7 laundry facilities, just to name a few. It's also pet-friendly and big-rig-friendly.
Best RV Park on the Way to Bend
If you're planning to travel between Portland and Bend, Oregon, you can break up the drive with a stop at a popular RV park in Silverton called Silver Spur RV Park & Resort. This RV park is conveniently located south of Portland off of I-5, making it the perfect place to rest and recharge during a long road trip. Here at Silver Spur, we offer many resort-like amenities to make your stay comfortable and enjoyable, including a heated pool, hot tub, game room, stocked fishing ponds, and so much more. Better yet, the "Crown Jewel of Oregon," Silver Falls State Park, is just a quick drive from our central location.
How Much Do The Best RV Parks in Bend Oregon Cost?
RV parks in Oregon range in price depending on several factors, including the type of RV park, type of site, location, amenities, season, and more. To give you an idea of the price range in Bend, Oregon, Tumalo State Park full hookup RV sites cost around $36 per night, while RV sites at The Camp cost $89 per night. Some RV parks, like Silver Spur in Silverton, offer discounted weekly and monthly rates– so you can save money by extending your stay!
10 Best Things to Do in Bend, Oregon
Once you decide on where to camp in Bend, you can get to the fun part: planning your adventures! Here are our top ten favorite ways to pass the time in Bend:
Sample local craft beer at one of the 30+ breweries in Bend. If you're up for a challenge, download the app and complete the Bend Ale Trail to win fun prizes along the way.
Float the river through town between Memorial Day and Labor Day. Rent a tube, paddle board, or kayak from one of the many rental places in town, or bring your own— just don't forget your life jacket. This experience is an absolute must during the warm summer months!
Catch some live music at the Hayden Homes Amphitheater, a large outdoor amphitheater located in Bend's historic Old Mill District.
Hike to Tumalo Falls. During the snowy winter months, you can swap out the hiking boots for some snow shoes! If you're a big waterfall fan, check out our guide to the best waterfalls in Oregon for more stunning places to visit.
Play in the snow at Mt. Bachelor Ski Area, located less than 30 minutes from Bend. Here you'll find the 6th largest ski resort in North America, with 4,323 skiable acres, 3,365 feet of vertical drop, and 101 runs!
On your way to Bend, stop by the Suttle Lake Lodge & Boathouse for some fun by the water. Rent kayaks or stand-up paddle boards, then fuel up with a delicious lunch from the Boathouse.
Go mountain biking! With more than 300 miles of mountain bike trails accessible from town, a convenient shuttle service, and countless bike shops, Bend is a wonderful destination for mountain bike enthusiasts.
Play a (free!) round of disc golf. There are plenty of fun courses to choose from in Bend, but two of the most popular are Pine Nursery Park and Rockridge Park. For more info on local courses, events, or tournaments, check out the Central Oregon Disc Golf Club.
Explore Smith Rock State Park on your way down to Bend. You can hike around and take in the scenic views on foot— or better yet, climb up one of the 2,000 rock climbing routes for an even more epic view.
Visit the High Desert Museum. This is a family-friendly outing that the kids will love. Be sure to check out the schedule and catch an animal show during your visit!
Bend Oregon RV Parks & Where to Go Next!
Wherever you decide to camp and whatever you decide to do, we know you'll have an amazing time in Bend!
If your travels take you north towards Portland, come stay with us at Silver Spur RV Park & Resort and experience the magic of Silverton and Silver Falls State Park. We are one of the top-rated RV resorts in the area, with beautiful grounds, resort-like amenities, a central location, and pristine facilities.
We hope to host you and your family in the near future! In the meantime, safe travels, and have a wonderful trip to Bend.